'Real Housewives of New Jersey' Season 8 Finale: And the Horse You Rode in On! (RECAP)
[SPOILER ALERT: This post contains spoilers about "Prisons, Proposals and Parties," the Jan. 10 Season 8 finale of The Real Housewives of New Jersey.]
I realize this may be an oxymoron, but can we agree that, baseless claims of anti-Semitism, a horrific double murder and sad death of Antonia Gorga aside, this was the most inconsequential season of Real Housewives of New Jersey yet?
Much of the early drama revolved around a lighthearted food fight that Siggy Flicker appeared to equate with taking a dump on the Mona Lisa. The season-long grudge match between Siggy and newbie Margaret Josephs lacked the intensity of prior power struggles because the two lacked history and, well, Siggy revealed herself to be a few branches shy of a menorah. (Does that make me an anti-Semite, too?) And the much-anticipated return of RHONJ OG Danielle Staub fizzled when Danielle, with one notable exception, declined to bring the drama.
I randomly ran into Danielle in Englewood earlier this week and told her as much. "Wait for the reunion," she told me.
We open with Margaret doing a fitting for her birthday gown; Siggy going tux shopping with Josh, who tells her he is going to Penn State, which is within the approved OMR (Overbearing Mother Radius); and Dolores, Frank and Frank Jr. bowling and being boring. I saw about two seconds of Margaret's disco-crazed housekeeper Marlene and all I know is want a spinoff.
Joe and Melissa are organizing a surprise family birthday celebration for Teresa. Later, Teresa says that she is taking the two younger girls to visit their father in prison that weekend, and reveals she hasn't visited to Joe since before her mother took ill, a good eight months prior. "It's been busy," Teresa says unconvincingly.
Joe Gorga tells us Teresa is angry, but she's afraid to show her husband how angry she is. And then Teresa tells us that she wants to hear Joe say he's sorry "and really mean it." Because apparently whaddayagonnado? doesn't quite cut it anymore. "It's festering in my brain. I definitely have to express it, because if I keep it inside, it's not going to be a good thing.
That weekend, Teresa takes the girls to visit Joe and OH MY GOD HOW CAN THIS FAMILY STILL FAIL TO UNDERSTAND HOW SEAT BELTS WORK. In one shot, Milania has her seat reclined, with the shoulder harness wrapped around her raised right arm. Audriana has her lap belt on but the shoulder harness is nowhere in sight. And Teresa is not wearing her seatbelt at all. In Jersey, we call that irre-friggin'-sponsible.
Sigh.
"I just want our daughters to know that he's really sorry about letting them down," Teresa tells us. "Because that's what he did. He let us down." Bravo informs us that cameras were not allowed inside the prison, and all we learn about the encounter from Teresa is that she seemed to have choked: "All that courage that I built up to ask for an apology just, like, went away" when she saw him. And no, apparently not because she was so disgusted at the sight of him.
Later that week, Joe and Melissa are shopping for gifts for Margaret's 50th birthday at the Jonathan Adler home decor boutique — really? Wealthy 50-year-olds registering for gifts? That's a thing? — and Joe wonders if his brother-in-law actually apologized, and says he's never heard Teresa talk so direly about their relationship before. "If he doesn't apologize and do the right thing, I don't know, she may walk."
Teresa meets them at the boutique and reveals that yes, Joe apologized at the prison. "Why weren't you on top of everything?," she claims she asked him. Points off, Teresa, for pretending that this was a matter of some misplaced paperwork. These were W-2 forms that federal prosecutors alleged the couple forged in order to obtain millions in construction loans and mortgages. If anything, Joe was TOO on top of everything. But we digress.
"I want to hear sorry," she says she told him. He claims he told her in his letter and emails. "No, I want to hear it from your mouth," she says. Joe: "Yeah, I'm sorry. I'm so sorry. I'll never let anything like this happen again," and then they both started crying. Again, according to Tre. Teresa's last word: "He better make it up to me when he gets home."
More filler: Josh is going to the prom with his girlfriend Demi, AND YES THIS IS ME CLUTCHING MY PEARLS WONDERING IF THAT IS REALLY WHAT GIRLS ARE WEARING TO THE PROM THESE DAYS. Larry, Margaret's party planner, is taking the disco theme entirely to heart. David, Dolores' obstetrician boyfriend, is still MIA, but, she says, "for now it's okay. Frank is filling the void." I don't think she means that literally.
Finally, it's party night. All the ladies arrive in their 1977 finest except Siggy. Margaret makes her grand entrance sidesaddle on a wooden horse pulled by muscled hunks. As one does. She gives a tearful and gracious welcome to all, and even Dolores seems to be softening a little bit. To us, she says that her friendship with Margaret has been rocky, but they did bond over their unconventional relationships with their ex-husbands. "I think everybody's heart is different, but there's a heart there," she says of Margaret.
Favorite quote of the evening goes to Marge Sr., sipping from an oversized goblet: "It's good! It's alcohol!" Fabulous shot of Marlene the housekeeper dancing. But trouble is, quite literally, afoot. Teresa and Dolores get texts from Siggy saying she fell and has been taken to the hospital. Danielle is highly skeptical, which leads Dolores to snap at her: "You're such a slob. If she didn't want to come, she wouldn't come."
Margaret is peeved that Siggy reached out to the other girls but didn't tell her, the hostess/guest of honor, but, she reasons, at least the night will be drama-free. BWAH HA HA.
Separately, Joe Gorga tells his wife that Siggy was crazy enough to embarrass Melissa at her party, that Siggy called Melissa trash, and that she defended Kim D. He's also skeptical, and Melissa may be inclined to agree.
It could have ended there, but, you know, Real Housewives of New Jersey. Dolores decides to text Siggy to tell her that essentially Danielle is claiming Siggy chickened out of the party. Siggy, who has one arm in a sling and a foot in a bandage, storms from the hospital to Siggy's party. "I'm in a lot of pain, but I'm walking into that party because nobody talks about Siggy Flicker like that." Also: Because Siggy Flicker is cray-cray.
Her husband Michael, who a couple of episodes ago was practically ordering his wife to detach from this gaggle, actually drives her there, although he does ask the valet to keep the car handy because he knows this isn't going to go well.
Siggy says she's going to steal Dolores, Teresa and Melissa from the party.
"I can't believe Siggy showed up tonight," Teresa says. "Right there shows you she does want to make things better with Margaret." Is Teresa serious? We know she's not being sarcastic, because that requires a certain familiarity with the concept of subtext.
Siggy greets her favorite few and settles in next to Dolores and asks, "Did you guys think I'm faking it?" Melissa jokes that she could have believed Siggy threw herself down a flight of stairs to avoid going to Margaret's party," and Siggy throws her head back and laughs. Note this.
Bravo helpfully cuts in a confessional of Siggy saying she was disappointed that Melissa "drank the Kool-Aid," but tells Melissa that she would never try to hurt herself: "You know how much I love myself. I'm all about the Sig." Privately, Melissa agrees: "Nobody loves Siggy more than Siggy. But then again, it says a lot that I even think she might do something like that."
Then Siggy does admit she didn't want to come to the party.
Margaret is standing right there, and she is rightfully appalled. "She has not reason to be afraid to come to my house," she tells us. "I've never publicly humiliated her. I've never called her an anti-Semite. When I made up with her, I think it was genuine, and then she attacked me again for no reason. She's the game player here, not me."
To Siggy, she says, "We can have social graces," and Siggy agrees. But then Margaret points out that Siggy refused to meet her mother the other night. "Correct," Siggy says. "I never said I wanted to be friends. I don't want to be friends … I came here to be with Teresa and Melissa."
Namaste Tre tries to play peacemaker: "But you want to wish her a happy birthday …," she prods Siggy. Margaret cuts her off: "No she didn't. I extend the olive branch constantly and she just wants to be with you guys."
Siggy: "Because I love them so much."
Margaret: "If you don't want to be here, just f***ing leave." Which I believe Emily Post would agree is a 100 percent appropriate response in this instance. Yet the other women look shocked. In a later confession, Siggy rejoices: "Thank you! There is a god, and god is good. Bye bye!" In real time, she tells everyone she's going to go, like she's the victim. Margaret: "I feel bad about your leg, but just go."
There's a bit of a tug of war about who is leaving with Siggy — Dolores, of course, and Teresa appears to accompany Siggy outside and attempts to school her on proper party etiquette. Because if anyone knows the proper way to end a party, it's Teresa. "But I mean, honey, I think you came a little bit for Margaret's party, didn't you?" Siggy: "No, I don't want to be a phony." (Here's where I remind you that she got pissed off at Melissa's joke about five minutes ago but totally pretended she wasn't angry.")
Teresa admits that Siggy's behavior has not been the best, but Siggy has been there for her, and she wants to be there for Siggy. "My loyalties lie with you," she tells Siggy. "Dolores and I are coming with you." Which would be a fine way to lay tracks for next season's drama if Siggy hadn't decided to part ways with Bravo in addition to all of her senses and consideration for her brand.
Dolores tells us that obviously Siggy is annoyed that people were talking about her behind her back. And she knows this because she's the one who TOLD Siggy that people were talking about her behind her back. That's some high-level relationship physics there, girl.
Melissa, who remains at the party, wonders why Siggy didn't just stay home when she had a perfect out. "The group is divided right now," Melissa says. "Let's just say I know I'm on the side of right." Margaret says she's disappointed in Teresa: "I hope she has a good f***ing excuse." Is sheer obliviousness a good one?
Here are the finale updates: Teresa is "loving Joe's hot new bod," and is looking forward to seeing him again, even though he's been transferred to a new prison farther away; Dolores is still with the mysterious David; Siggy cut back on work to spend more time with Michael; and Margaret is finally considering calling in an outside contractor to finish her home renovation. Uh oh, Joe.
The Real Housewives of New Jersey, Wednesdays, 9/8c, Bravo. Part 1 of the reunion special airs Jan. 17.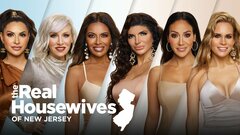 Powered by