'Real Housewives of New Jersey': The Girl Who Cried Editing (RECAP)
Fauxpology
Season 8 • Episode 11
[Spoiler Alert: This post contains spoilers about the Dec. 20 episode of The Real Housewives of New Jersey.]
There have only been a handful of times in my eight, count 'em eight years of recapping The Real Housewives of New Jersey that I have been truly outraged by the proceedings. I'm lumping together each and every time Teresa Giudice scapegoated someone for her legal woes — her lawyers, the federal prosecutors, former castmates Jacqueline Laurita and Caroline Manzo, and, for all I know, her tanning bed technician and the guy who dips all of her furnishings in old paint.
I was also disgusted when Danielle Staub, accompanied by a regiment of two-bit hoods,  used a charity event for a child with cancer to further her beef with her castmates back in Season 2. Horrified when Jim Marchese aired a scurrilous rumor about a fellow castmate's mother sleeping with her son-in-law in Season 5. And I can't even discuss Season 1's Ham Game. That is no way to treat deli meat.
Now I have to add to my list Siggy Flicker's disgraceful accusations of anti-Semitism against Margaret Josephs, which she lodged last episode, and her subsequent behavior this episode — first refusing to acknowledge Margaret's heartfelt apology over a poorly-considered but not entirely inaccurate Hitler metaphor (Siggy's father is a Holocaust survivor), and then, a day later, offering to Margaret what was essentially "I'm sorry you felt bad when I called you an anti-Semite."
Siggy, who is all over social media claiming Bravo is editing her to be the villain of the season, also dabbles in false equivalency. "It's not about you hurting my feelings," Margaret charges at the episode-ending dinner. "It's that you aligned me with a hate group. That's relationship-ending. That's career-ending. That's hurtful." Siggy: "That's how I felt when you said Hitler's name." Margaret: "Saying his name doesn't ruin people's lives. Did that ruin your life when I said Hitler's name?"
Finally, finally Siggy admits that she doesn't think Margaret is anti-Semitic. But, she says, Margaret is anti-Siggy!
I think we can all live with that.
The episode opens with the ladies splitting up into small groups to explore Milan: Teresa, Dolores Catania and Margaret are meeting up with a local chef to buy "ingredientses" (thank you, Tre) and cook dinner for the rest of the group, while Melissa Gorga, Siggy and Danielle are going for a bike tour of the city, unflattering handlebar-mounted camera angles included.
During a picnic lunch, Melissa broaches the subject of Siggy's charges against Margaret, but Siggy starts sobbing (by the way, my spell check automatically changes Siggy to Soggy now) about how mean Margaret is. She also tells us that she's never had friends who treated her this way, and she's never had friends (presumably Melissa and Teresa) who "stand by and do nothing." Danielle points out that perhaps Margaret wasn't aware of Siggy's rule book, but Siggy insists she gave Margaret a chance to apologize, but she didn't.
At dinner that night, Margaret is extremely quiet. "If this wasn't such a great group of girls, I would leave the country or fake my death to get away from Soggy Flicker," she tells us. Melissa takes her outside for a moment to counsel her, and when they return, Siggy is telling the other women that Hitler is her trigger word.
Teresa tells them that she feels the same way about the word jail.
"I never heard you say that word," Melissa says wonderingly. Teresa: "I don't want that word to define who I am." (For as much as I make fun of Teresa's minimizing of her prison stint, er "going away" stint, I can respect that.)
Then Margaret decides to take the opportunity to apologize to Siggy. "I would never know that would hurt you to the core, and that was not my intention. Hitler is your trigger word. If I knew that, I never would have said it. I would never want to hurt you. I'm sorry."
The other women say they are moved by Margaret's words, but Siggy merely picks up her glass of wine and stares off into the distance. Crickets. "You just can't get over a comment like that in 24 hours," Siggy tells us. Point of fact: The comment made several days prior, if not a week or more.
The next morning, Danielle stops by Siggy and Dolores' room, where Danielle attempts to prod Siggy into accepting Margaret's apology. (Dolores, who has no love for Danielle, just rolls her eyes and makes disgusted faces.) Danielle points out that Siggy wanted an apology, and an apology is what Siggy got. "Yeah," Siggy says, "but I'm entitled to my opinion."
I thought her opinion was that Margaret needed to apologize?
Have I reminded you that Siggy Flicker makes her living as a relationship expert with allegedly keen insights into the human psyche?
Danielle heads off to a shoe factory with Margaret while Siggy and Teresa head out to a church to say a prayer in memory of Teresa's late mother. Siggy complains about Margaret, saying the bad vibes started almost immediately when Margaret dubbed her Soggy.
Teresa points out that she's been called much worse, including, most recently, an adulterer by Kim D. Siggy says it's the same thing: "Hurt is hurt."  Teresa begs to differ but doesn't really push the point, saying that Margaret probably doesn't realize how sensitive Siggy is.
Siggy: "She says things that are in bad taste and then she won't apologize for it." Teresa: "SHE DID LAST NIGHT." (Emphasis mine.) Siggy says that she gave Margaret the opportunity to apologize at the dinner at which she accused Margaret of being an anti-Semite and OH MY GOD DO YOU LISTEN TO YOURSELF, SIGGY?
Teresa points out that things got a little "intense" that night — as opposed to all those carefree nights at which allegations of anti-Semitism are cheerfully bandied about — and Siggy promises to think about what Teresa has said.
Meanwhile, Melissa is working on Dolores, who defends Siggy's failure to accept Margaret's apology by claiming that she wasn't emotionally ready for it. DESPITE ASKING FOR IT THE NIGHT BEFORE. SOMEONE DISABLE MY CAPS LOCK PLEASE.
Dolores actually says that Siggy could have told Margaret to f*ck off for her stupid apology. Wait, that's her defense? Your honor, my client poisoned the victim, but at least she didn't disembowel her! Dolores does at least admit that calling Margaret an anti-Semite is bad, and Melissa says that Siggy needs to walk that comment back.
At their last dinner in Milan, mercifully in a private dining room, Siggy thanks Margaret for her heartfelt apology. At this point, Margaret doesn't give a hoot, she just wants Margaret to admit she's not anti-Semitic.
Of course it's not that easy. Siggy tells Margaret that she "wants to believe with all my heart and soul" that Margaret is not an anti-Semite.  "All of these moments of me feeling attacked by Margaret, and then the Hitler statement, well, then I said, maybe she's anti-Semitic. That's where it came from. If I hurt your feelings, I apologize for that."
First off, Margaret's grave sins in the eyes of Siggy seem to be excluding her from a memorial service for Teresa's mother — let's point out that Siggy apparently didn't show up where she was supposed to, it didn't seem like a deliberate snub, and hello, cell phones? Teresa and Melissa could have called her as well — and dubbing her Soggy Flicker. For which Margaret apologized. TWICE. Siggy does insist on social media that there were many other slights that we did not see. But slights and, yes, full-frontal assaults are the bread and butter of the Real Housewives franchise. This is not an attack on your heritage. This is an an attack on you personally. That's the show.
Margaret is floored by Siggy's sorry/not sorry. "Don't be sorry for the way I feel," she tells us. "Be sorry for what you did. Apology 101." As I recounted earlier, Margaret explains that anti-Semite is not a word to be tossed around lightly, and finally Siggy tells her she doesn't believe Margaret is anti-Semitic.
Melissa feels the need to state for the record, "So you don't think Margaret is anti-Semitic?" Siggy says no, Margaret is not anti-Semitic, just anti-Siggy.
Margaret tells us that she feels Siggy's apology was forced and only made because she realizes that Margaret is around to stay. Regardless, the tension at the table breaks, and Margaret invites all the women to her upcoming Studio 54-themed birthday part back in New Jersey.
Cue "Disco Inferno."
The Real Housewives of New Jersey, Wednesdays, 9/8c, Bravo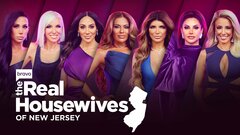 Powered by