'Real Housewives of New Jersey': Teresa Giudice's Extreme Image Makeover (RECAP)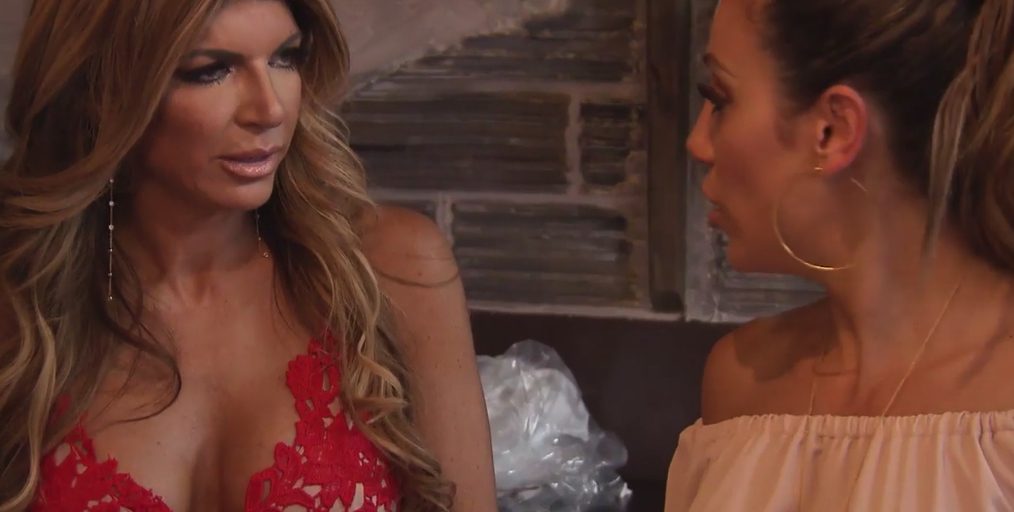 Ain't No Misbehaving
Season 8 • Episode 12
[SPOILER ALERT: This post contains spoilers about the Jan. 3 episode of The Real Housewives of New Jersey.]
Teresa Giudice's better-late-than-never image rehab gets supercharged in tonight's Real Housewives of New Jersey when she apologizes to Danielle Staub's younger daughter Jillian for immortalizing her mother in one of the trashiest pop culture moments of the new millennium. And that, my friends, is saying a lot.
Teresa delivers what appears to be a thoughtful and heartfelt apology, telling Jillian that she had a lot of time to think when she was in jail — yes! She actually uses that word! — and that she really wanted to let Danielle know she was sorry about the table-flipping contretemps. "If I could take it back, I would," Teresa says. "Sometimes in the heat of the moment you don't think. The words that came out of my mouth, the actions were my doing. I take full responsibility for what happened. I'm truly sorry."
"I take full responsibility for what happened." That must be news to the bankruptcy lawyer she is suing for legal malpractice. And to everyone else she has blamed her legal woes. She also admits to Jillian that she never used to be able apologize, but now she knows it's okay to say sorry.
This kinder, gentler Teresa lasts about five minutes. She shows at Gorga's Homemade Pasta & Pizza in East Hanover  to find her bro Joe plotzing over the upcoming grand opening and his wife Melissa nowhere to be found. Joe tells Teresa that Melissa had told him earlier that she's going to focus on Envy, and that the restaurant business is going to be their responsibility. "Why didn't she say that from the beginning?," Teresa snaps. Maybe because she was only told about the restaurant after it was a fait accompli, Tre?
When Melissa turns up, it's pretty clear they are both aching for a fight. Teresa immediately starts in, asking why she doesn't want to be a part of the business anymore. Melissa pretends that's not the case at all; she claims she merely told Joe she didn't want to be bossing him around. Teresa: "This is a family restaurant so you need to take it serious." Melissa tells them not to start with their attitude and flounces off for a glass of wine.
The drama is all very short-lived, because Joe gives a sweet speech about opening the restaurant in honor of his late mother, and Melissa basically melts. She tells Teresa that she will help out, but that she was insulted that Joe and Teresa decided to open the restaurant without consulting her. Teresa actually sides with Melissa — will wonders never cease? — saying that Joe should have involved Melissa in these decisions. And if anyone should know about husbands not involving wives in absolutely terrible business decisions, it's Teresa.
Speaking of which, there is a bit of build-up to next week's Season 8 finale in which Teresa will visit hubby Joe in prison for the first time in two months, since the death of her mother. At the photo shoot for the cover of Teresa's second memoir, Siggy shows up and asks Teresa whether she'll be confronting Joe about his actions during the visit.
To us, Teresa says that she wrote in her book that she was angry that Joe still hasn't apologized for their legal drama and hasn't taken full responsibility, but, "writing it down versus looking him in the eye is different. If he doesn't apologize to me, it's like, where do we go from here?" Um, Season 9?
Meanwhile, Margaret invites her ex-husband Jan to her house to tearfully ask him if he thinks her stepchildren, who stopped speaking to her after she left Jan for handyman Joe, will ever speak to her again. He doesn't seem to think it's likely, but Margaret says she's never going to give up hope. At Casa Catania, Dolores talks with ex-husband Frank about her frustrations over her relationship with her as-yet-unseen obstetrician boyfriend David, and he tells her that he made the mistake of not appreciating Dolores, and he regrets it. Aw.
Pop quiz: Do you know what is even more disrespectful and distasteful than making a Hitler analogy to the daughter of a Holocaust survivor during a knock-down drag-out fight on a reality television show? Dragging an actual Holocaust survivor who also happens to be a respected Holocaust scholar into a discussion about a knock-down drag-out fight on a reality television.
Oy vey iz mir.
This is a man whose grandparents, uncles, aunts and cousins were slaughtered in Poland by invading Nazis and complicit Poles and who had to smuggled out of Belgium at age two to escape a similar fate. Now he's forced to listen to his daughter kvetch about being called Soggy and an argument about walking in a fashion show organized by a nasty gossip queen.
What's even more embarrassing is that Siggy Flicker's father didn't even side with her when Siggy told him she called Margaret an anti-Semite after Margaret referenced Hitler in the argument. (Siggy also neglects to mention that Margaret's over-the-top analogy was only sparked by Siggy's equally ridiculous comment — that she doesn't judge her friends by how they treat other people.)
His advice? "The way to handle that is to not get in any conversation with her at all. Because she's going to drive you crazy and you're going to find yourself saying things that you'll regret you said." TOO LATE.
Soggy admits to us that her behavior has been over the top and vows that Margaret will not hold any power over her. Of course Siggy immediately takes this seven steps too far. Later, at the the grand opening of the Gorga pizzeria, she ignores Margaret entirely and even rebuffs Danielle's attempts to introduce her to Margaret's mother. "I'm not going to be ambushed once again," Siggy sniffs. Does she think Marge Sr. is going to whack her in the forehead with one of her stilettos? Even BFF/enabler Dolores thinks Siggy is being a little rude: "I've always been respectful of my friends' parents, but that's me."
Siggy had previously accepted Margaret's invitation to Margaret's upcoming birthday party, and when Danielle relays Siggy's refusal to meet Marge Sr. to the ladies, everyone is appalled. Margaret says she won't rescind the invitation: "I've never kicked people out of my home." Danielle: "There's a first time for everything." One can only hope!
The Real Housewives of New Jersey, Wednesdays, 9/8c, Bravo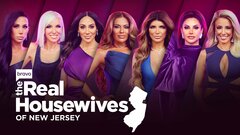 Powered by