RANKED: All 99 'Real Housewives,' From Worst to Best
Ever since the first Real Housewives debuted in 2006, dozens of women across the franchise's nine U.S. installments have flipped their hair, delivered a tagline, and allowed Bravo cameras to follow their every catfight, heartbreak, and wine toss. Come The Real Housewives of Orange County's 12th season premiere on July 10 at 9/8c, the addition of Peggy Sulahian will finally bring the number of 'wives to an even 100. In honor of this truly staggering achievement, we've ranked the 99 fearless ladies who've put their lives in front of America in the hopes of launching successful flavored-alcohol companies, or whatever.
This isn't a popularity contest–as Kenya Moore knows, being Miss Congeniality won't get you far on the show, and it won't get you far on this list. No, this is about which women have brought their A-game and delivered what we tune in for—heart, drama, and shade. From worst to best, here are all 99 Real Housewives, ranked.
99. Charrisse Jackson-Jordan (Potomac)
Bland and withholding, the perfect combination for a yawn.
98/97. Teresa Aprea/ Nicole Napolitano (New Jersey)
The twins, who brought Jersey Shore-level trashiness to the show, didn't get separate taglines in their intro, and they're not getting separate slots here.
96. Jules Wainstein (NYC)
Jules, while grating, had potential. But the moment she had any actual drama in her life (her husband's infidelity), she and the show swiftly parted ways.
95. Kim Fields (Atlanta)
One of the series' single worst casting choices, Kim seemed to have zero interest in actually participating in the show from day one.
94. Porsha Williams (Atlanta)
While she's given us some unforgettably dumb lines—the Underground Railroad ring a bell?—this brawler lacks even the slightest bit of sophistication the show requires. She'd fit right in on any number of other lesser cable channels, though.
93. Quinn Fry (Orange County)
We now begin the section of this list comprised of people we hardly can recall, which really, is one of the greatest sins a Housewife can commit.
92. Kimberly Bryant (Orange County)
91. Tammy Knickerbocker (Orange County)
90. DeShawn Snow (Atlanta)
89. Larsa Pippen (Miami)
88. Cristy Rice (Miami)
87. Lizzie Rovsek (Orange County)
86. Peggy Tanous (Orange County)
85. Cindy Barshop (NYC)
We now conclude the section of complete unmemorables.
84. Kathryn Edwards (Beverly Hills)
How you gonna have an O.J. connection and do nothing with it?
83. Kelly Dodd (Orange County)
Kelly Dodd is the type of adult who still thinks nose flicking jokes are hilarious. That is all you need to know.
82. Amber Marchese (New Jersey)
Minus ten million points for her slimier-than-Gak husband.
81. Joyce Giraud (Orange County)
80. Siggy Flicker (New Jersey)
A lot of people love her, but the peacemaking platitudes got old real fast.
79. Tiffany Hendra (Dallas)
78. Adrienne Maloof (Beverly Hills)
Best remembered for the Maloof Hoof, she's now been usurped in popularity by her Botched husband, Dr. Paul Nassif.
77. Gretchen Rossi (Orange County)
To be a Real Housewife, you don't actually need to be a Housewife, and you don't even need to be totally real. But being neither—that doesn't cut it. Gretchen was as phony as they come, as best demonstrated by her infamous marriage proposal to Slade. If "fake news" was a term back then, we'd have been screaming it from that rooftop.
76. Eileen Davidson (Beverly Hills)
While totally likeable, Eileen treats every conversation like a scripted soap opera scene, and one she's not committed to at that.
75. Kathy Wakile (New Jersey)
Nobody cares about cannoli, and nobody cares that Teresa won't love you anymore.
74. Jo De La Rosa (Orange County)
Look, she brought us Slade Smiley. We're just not sure whether that's a good thing or a bad thing.
73. Stacie Scott Turner (D.C.)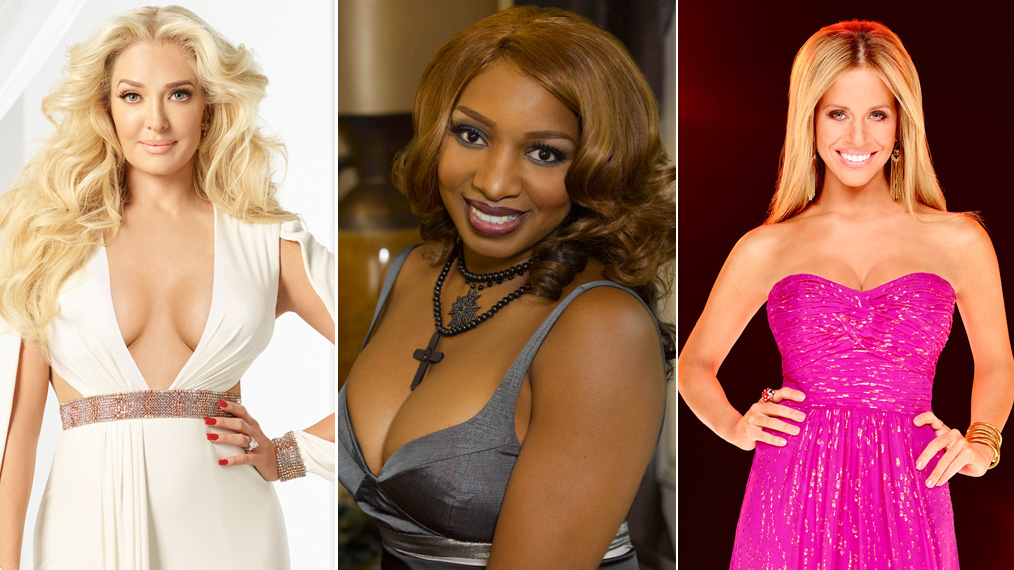 See Also
Not all taglines are equal. No, many of the Housewife lines have relied on clichés, bad puns and worst of all, earnestness. Luckily, these 10 ladies have shown the rest of the pack how it's done.
72. Robyn Dixon (Potomac)
71. Lydia McLaughlin (Orange County)
70. Lisa Wu (Atlanta)
69. Meghan King Edmonds (Orange County)
It's awfully hard to root for this whiner, even if her detective skills are on point.
68. Cynthia Bailey (Atlanta)
67. Kyle Richards (Beverly Hills)
Perhaps the first truly controversial ranking on this list, Kyle has a strong legion of support. But while she started in season one as down-to-earth and easy-to-root-for, she's since distanced herself far from the drama. She fancies herself a Bethenny-type, providing quip after quip in confessionals, but more often than not, they fall flat.
66. Carole Radziwill (NYC)
Another champion of not getting involved and just commenting from the sidelines, but as a writer, her one-liners actually hit.
65. Ashley Darby (Potomac)
64. Ana Quincoces (Miami)
63. Cary Deuber (Dallas)
62. Karent Sierra (Miami)
61. Brandi Redmond (Dallas)
About 987,000 too many poop jokes.
60. Lynne Curtin (Orange County)
We still think of sweet, simple Lynn every time we see a hideous cuff.
59. Monique Samuels (Potomac)
58. Tinsley Mortimer (NYC)
She hasn't brought much to the table yet, but her exploits with a man 20 years her junior was much appreciated.
57. Dolores Catania (New Jersey)
Caroline Manzo Lite.
56. Jeana Keough (Orange County)
55. Kristen Taekman (NYC)
54. Aviva Drescher (NYC)
Aviva gets a bad rap for the leg toss, easily the clearest symbol of desperation the series has seen. But before that, she brought a lot to the table, including a delightfully creepy dad!
53. Kelly Killoren Bensimon (NYC)
Ranks this high almost exclusively because of Scary Island. Never forget the gummy bears.
52. Yolanda Hadid (Beverly Hills)
A strong start that unfortunately turned into us never wanting to hear the word Munchausen again.
51. Marysol Patton (Miami)
Her mom, Elsa, would rank higher.
50. Lynda Erkiletian (D.C.)
See Also
Believe it or not, Lisa Vanderpump, Kyle Richards and the other Housewives all have a past...in TV and film!
49. Carlton Gebbia (Beverly Hills)
A great character in the wrong setting. Bring her to New Jersey.
48. Dina Manzo (New Jersey)
47. Claudia Jordan (Atlanta)
A one-and-done who brought a surprising amount of energy to the show in her little amount of time there.
46. Katie Rost (Potomac)
She was in one of the more fascinating relationships across the franchise, and it's a pity we didn't get to see more of it.
45. Phaedra Parks (Atlanta)
The Southern belle entertained us for several seasons with her dry shade and cornucopia of careers. But she never had any intention of really opening up about the facts of her life, and in the end, that's what made her lose out in the court of public opinion.
44. Stephanie Hollman (Dallas)
43. Erika Girardi (Beverly Hills)
She's easy to love, but in terms of bringing drama and intrigue on the show, she really hasn't served up much more than being offended by a lame panty joke. Freaking out about her son at that dinner table was a good sign though!
42. Joanna Krupa (Miami)
41. Heather Thomson (NYC)
She's just fun. Holla!
40. Mary Amons (D.C.)
Remember how she had a lock on her closet to keep her teenage daughters from wearing her fancy clothes? Baller.
39. Alexia Echevarria (Miami)
Cuban Barbie was a delight to listen to, and her struggle with her son's tragic car accident was truly touching.
38. Alex McCord (NYC)
Herman Munster shoes and all, she was an excellent punching bag.
37. Dorit Kemsley (Beverly Hills)
You gotta love someone who, upon being introduced to America, chooses the villain role in a matter of minutes.
36. Lisa Rinna (Beverly Hills)
What do you do with a problem like Lisa Rinna? On the one hand, she's brought some of the most annoying storylines of all time to the show—Munchausen, "not remembering"—but she also knows how to deliver.
35. Lisa Vanderpump (Beverly Hills)
Vanderpump is Real Housewives royalty, and we'll forever be indebted to her for the creation of Vanderpump Rules, but as time goes on, her value on the show seems to depreciate. She had no problem hashing it out with Brandi Glanville and Adrienne Maloof back in yesteryear, but these days, she deals almost exclusively in passive aggression.
34. Heather Dubrow (Orange County)
33. Shereé Whitfield (Atlanta)
Her failings ("a fashion show with no fashions") have always been hilarious, but she's often a total snooze. This last season though, she came back much stronger. A higher ranking down the line could be in her future.
32. Lisa Hochstein (Miami)
31. Cat Ommanney (D.C.)
Partially ranked this high for that amazing episode of Watch What Happens Live where she had it out with Countess Luann.
30. Adriana de Moura (Miami)
See Also
'Don't Be Tardy,' 'Married to Medicine' and 'Vanderpump Rules' are all slated to return to Bravo in 2017.
29. Dorinda Medley (NYC)
Nobody does drunk better.
28. Lauri Peterson (Orange County)
27. Lea Black (Miami)
The cancellation of Miami was most unfair because it meant this leading lady never got the grande dame status she deserved.
26. Melissa Gorga (New Jersey)
25. Kim Richards (Beverly Hills)
She's a deeply troubled woman, but it's impossible to look away.
24. Michaele Salahi (D.C.)
You know her as the White House crasher, but she's also the woman responsible for this legendary local TV pop performance.

23. Jacqueline Laurita (New Jersey)
22. Taylor Armstrong (Beverly Hills)
21. Shannon Beador (Orange County)
20. Sonja Morgan (NYC)
If being Sonja is so wrong, we don't want to be right. May her imaginary memories never fail her, and may Tipsy Girl become the new Yellowtail.
19. Gizelle Bryant (Potomac)
One of the most egotistical women of the franchise, she wears it well. Plus, she's not afraid to throw shade wherever the sun may be shining.
18. LeeAnne Locken (Dallas)
LeeAnne came out of the gate hootin' and hollerin' and never slowed down. We're hoping for more dynamics in Season 2, but for now, you done good, girl.
17. Tamra Judge (Orange County)
16. Jill Zarin (NYC)
She was undone by her hard-lining on the show, but she's undeniably one of the series' most strangely intriguing creatures.
15. Caroline Manzo (New Jersey)
14. Karen Huger (Potomac)
In just two seasons, Karen has established herself as one of the greats. She values status above all, and watching her cling to it is a true delight. Her facial expressions jump right off the screen, and her bite sticks with you.
13. Luann D'Agostino (NYC)
12. Kandi Burruss (Atlanta)
11. Danielle Staub (New Jersey)
Crazy with a capital C (and also maybe a capital R, A, Z, and Y), Danielle gave us two seasons of bombastic drama, as well as this deeply iconic gif.
10. Camille Grammer (Beverly Hills)
A Life & Style cover famously dubbed her "America's Most Hated Housewife," and in Season 1, that was true. In fact, that season's storyline marks the greatest villain role the franchise has ever seen. But after Kelsey Grammer left her, Camille turned things around. While a bad-girl-turned-good plotline has felt painfully contrived in other instances, here it gave Camille dimensions and rocketed her to icon status.
9. Teresa Giudice (New Jersey)
There's no denying Teresa is one of the most memorable Housewives of all time. She's the one who non-watchers are most likely to be able to name, her Season 1 table flip alone gave her place in the Housewives Hall of Fame. But her foray into crime and subsequent legal troubles have completely neutered her presence on the show. Formerly unhinged, she's now guarded to a fault.
8. Kim Zolciak-Biermann (Atlanta)
Kim's exit from the show was truly pathetic, but it doesn't undo the insanity she and her wigs brought to Atlanta's early seasons. Thanks be to Big Poppa.
7. Kenya Moore (Atlanta)
The antagonist that just keeps on giving, Kenya Moore is always up for more trouble. She delivers one-liners with gusto and has no problem stripping away everyone else's facades. She's Gone With the Wind fabulous, what else can we say?
6. Brandi Glanville (Beverly Hills)
Brandi's crutched beginning as a friend of the 'Wives quickly turned into one of the greatest flame-outs the franchise has seen. Against the Richards sisters, this down-and-out blonde was easy to root for. But as time went on and she burned every bridge possible, there was no one left to hold her hand. She had to go, but we'll never forget the good times.
5. Alexis Bellino (Orange County)
Alexis is not one of the most popular Housewives. Heck, she's not one of the 50 most popular Housewives. But Alexis is the quintessential picture of the woman the series was originally about. She hides behind principle, and the cracks don't just show—they shine.
4. Vicki Gunvalson (Orange County)
She's the O.G. of the O.C., and perhaps more than anyone on this list, she's really let viewers into all of her life. But that never-ending fake cancer plotline...no.
3. Bethenny Frankel (NYC)
Call off the dogs! You were probably expecting Skinny Girl to top the list, but here us out. Had this ranking been written after Bethenny's original run on the show, she'd easily have come out the winner. As an underdog, she was the hilarious color commentator. She brought a distinctly New York energy to the show, and her wit is unparalleled across any city. But—and this is a big but—her return has hurt her reputation. Her above-it-all disengagement and mean-spirited dismissiveness have knocked her from the pedestal. Still though, a legend's a legend, even if that legend soils their legacy.
2. Ramona Singer (NYC)
Love her or hate her (and you most definitely are in one of those two camps), Ramona is a walking greatest hits list of unforgettable show moments. Raise a glass of Ramona Pinot Grigio to this reality TV pro, because it's Turtle Time.
1. NeNe Leakes (Atlanta)
Our pick for the greatest Real Housewife isn't going to drop any jaws. Since her Season 1 bow in 2008, NeNe has defined what it means to be a character on the show. She's mastered it all: catchphrases, emotional honesty, screaming matches, and of course, an HSN clothing line. Bloop!

Disagree with our list? Let us know in the comments below!