Marc Guggenheim Says This Year's Arrowverse Crossover Makes the Last One 'Look Quaint'
If you thought 2016's alien-invasion mashup of Supergirl, The Flash, Arrow and DC's Legends of Tomorrow was a biggie, just you wait.
"It's madness, total madness," Arrow and Legends executive producer Marc Guggenheim says with a laugh. "This year's crossover is going to make the last one look quaint." The four-hour, two-night event, entitled "Crisis on Earth-X", aims to outdo that previous effort by upping both the scale and the emotional stakes.
In Monday's first installment, all of the ­heroes in the four series come together for the wedding of The Flash's Barry Allen (Grant Gustin) and Iris West (Candice Patton). "And as anyone who has ever read a comic book knows," Guggenheim says, "there has never been a wedding of a superhero that hasn't gone awry."
In this case, that happens courtesy of supervillainous Nazis from Earth-X, a parallel universe where Germany won World War II, who crash the party and (as supervillainous Nazis are wont to do) wreak havoc. Their arrival also unleashes the evil doppel­gängers of some core heroes and introduces the alternate plane's Ray ­Terrill (Quantico's Russell Tovey), the gay DC Comics superhero known as The Ray.
Over the course of the ambitious crossover, ­Guggenheim promises "a bunch of really fun team-ups, including one scene in hour four [airing Tuesday] where we literally have everyone on the bridge of ­[Legends' ship] the Waverider." There's also a massive action sequence for Flash ­(Gustin), Green Arrow (Stephen Amell) and Supergirl (Melissa Benoist)—plus one pairing that's sure to send fans into a ­frenzy. "Seeing Legends' Sara Lance ­[Caity Lotz] fighting alongside Supergirl's Alex Danvers [Chyler Leigh] is a total blast," Guggenheim teases.
And unlike last season's segmented, stand-alone showdown with the evil Dominators, Guggenheim confirms that this year's all-hands-on-deck get-together will reverberate across the Arrowverse throughout future episodes of each series. "All of the shows are impacted by the events," he warns. "It is a game changer."
Arrowverse Crossover, Monday, Nov. 27, 8/7c, The CW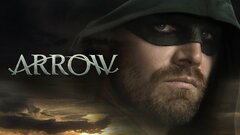 Arrow
where to stream