Arrowverse Crossover Ignites 'Crisis on Earth-X'
Production has officially begun on this season's Arrow–The Flash–Supergirl–Legends of Tomorrow crossover event, and in honor of everyone on those shows working overtime, The CW & Warner Bros. recruited iconic comic-book artist Phil Jimenez to whip up a custom comic book cover paying homage to the annual four-way. Check out the full cover below.
And yeah, that is Barry Allen (Grant Gustin) and Iris (Candice Patton) in formal attire! In fact, that is what brings everyone together in the first place: They are basically the world's coolest wedding guest list ever…until villains from the alternate universe of Earth-X crash the shindig.
Executive producers Marc Guggenheim and Andrew Kreisberg reveal that they have "conceived this year's crossover to be evocative of the annual Justice League/Justice Society crossovers we grew up with and looked forward to as kids," adding that Jimenez "was the perfect choice to bring the comic book cover iteration of this idea to life. You can count on one hand the number of artists who could compellingly represent so many characters in a single image. Phil is one of them. And his design invokes the cover of Justice League #207, which was the 20th Annual JLA/JSA crossover. Our ten year-old selves are in heaven."
Same goes for Jimenez, who has done amazing work on the Wonder Woman comics. "Some of the first DC Comics I ever read were those insane crossovers with a dozen characters from alternate earths and dimensions…the kind of stuff I later became known for!"
In the crossover release, the artist admits that he "couldn't resist" when The CW hit him up for an homage cover. "The chance to draw all of The CW's DC Super-Heroes in one crazy action sequence was insanely fun and exciting. And Romulo Fajardo's colors brought everything to life!"
Including a relatively new face among the action: Notice also that the artwork features The Ray, a DC Comics hero whose upcoming CW Seed animated series Freedom Fighters: The Ray just so happens to take place on Earth-X…where the Nazis won World War II. It has been confirmed that Russell Tovey (Quantico, the original Being Human) is playing the live-action version of the character (Tovey is also voicing the animated version of The Ray). So maybe this is more a five-show crossover in a way, huh?
Whatever it is, we are here for it. The crossover will air as a two-night event—Monday, November 27 (Supergirl then Arrow) and Tuesday, November 28th (The Flash and Legends)—on The CW.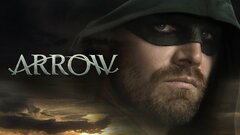 Arrow
where to stream