'The Walking Dead': Maggie and Aaron Are Going to Bond
The Nov. 1 episode of The Walking Dead didn't offer any insight about the fate of Glenn (Steven Yeun), or about how Maggie (Lauren Cohan) will react when she learns her husband is (maybe) dead. But the former farm girl will face some "troubling matters" alongside another character: Alexandria scout Aaron. Here's what actor Ross Marquand told us:
[jwplatform nEdWCJ91]
(See our full interview with Marquand here.)
"Maggie and Aaron are going to have some really lovely scenes together and they're gonna bond quite a bit this season over some very troubling matters," Marquand said in the interview filmed in mid-October.
RELATED: Walking Dead boss explains what really died at the dumpster
Yeah, it's a pretty tiny teaser, but it lines up with snippets from the Episode 5 preview showing the two characters together:
"I can't let you do this," says Aaron.
"You can't stop me," Maggie replies.
And apparently, he won't: the Season 6 trailer released at Comic Con included scenes of Aaron and Maggie in what looks like a sewer tunnel:
So whatever's ahead for Maggie, it's clear Aaron is going to play a role—and that it will be risky.
RELATED: Glenn's long history of narrowly escaping death
In fact, risk-taking is supposed to be a theme for both Maggie and Glenn this season, Lauren Cohan told Entertainment Tonight earlier this year:
"[W]e each have to continue to take risks. That's a big theme for Maggie and Glenn as a couple and Maggie and Glenn individually this year: realizing that sometimes you can't do everything you want to do, and you can't be as impulsive or risk-taking. But in the same token, who's going to get this done and who's the best person for this job? Glenn has proven himself to be one of their greatest strengths, but there's so many things that happen this year and there's so many huge sweeps and changes.
After losing dad Hershel (beheaded by The Governor) and sister Beth (shot by Dawn), and having miraculously reunited with Glenn after the two were separated by the prison siege, would Maggie be able to handle losing her husband? Here's what she told ET:
We have to keep going no matter what. I think what's happened is this sense that you aren't just living for yourself anymore—you're living for the people around you. I don't think she thought she could survive it after she lost Beth, but something higher—her God of whatever demonization—is just something that keeps her going and I think that's the human desire to survive. But I really hope we don't have to answer that question this year.
We hope so, too.
The Walking Dead, Sundays, 9/8c, AMC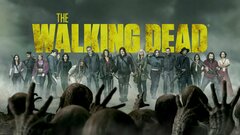 Powered by