Six Things We Learned From 'The Walking Dead's Comic-Con Panel
A hoard of over 7,000 zombie lovers gathered in Comic-Con's Hall H on Friday afternoon for a panel discussion with the cast and producers of the number one drama on television, AMC's The Walking Dead. While fans were treated to a first look at the Season 6 trailer and an exclusive blooper reel cut just for the convention, the spoilers were sparse from the typically tight-lipped crew. Here are six fun tidbits we learned from the hour-long session.
1. The season premiere will be bigger than ever.
The Comic-Con crowd was the first to hear the news that Season 6 will premiere on Sunday, October 11 at 9/8c. The opener will also be expanded to 90 minutes (much like the Season 5 finale), and to mark the grand occasion, AMC will premiere the episode to over 20,000 fans in New York City's Madison Square Garden in early October.
2. Andrew Lincoln misses Rick's beard.
The topic of Rick Grimes' clean-shaven face was almost immediately broached by panel moderator Chris Hardwick, and star Andrew Lincoln revealed he misses his facial accessory. "I miss that beard and I'm going to grow it back as soon as possible," Lincoln said. "My wife doesn't miss the beard, but Steven Yeun told me you look like you have a shrunken head." Rick's beard might be more meaningful to the trajectory of the character than viewers may expect, said showrunner Scott Gimple. "The beard in the comic and the show is a metric of where Rick is at," Gimple said. "The beard will continue to inform and be a barometer."
3. Morgan's (Lennie James) backstory will be explored.
Gimple hinted that the show will utilize flashbacks and play with time in Season 6. One of the characters that will experience a deeper dive is James' Morgan, whom Rick first met in the show's pilot episode. "We may find out this season what Morgan's been doing with himself," James revealed. "One of the things he's been doing is trying to find Rick, and they have a particular kind of man-love that goes on. Rick is the last person left on the planet who knows Morgan, but there is going to be a bit of fallout."
RELATED: New trailer and premiere date whet appetites for Fear the Walking Dead
4. More Michonne (Danai Gurira) and Carol (Melissa McBride) action?
The show's two most kick-ass women might get a chance to work together in Season 6, according to Gurira. "I've always yearned for more interaction between Michonne and Carol," she said. "I adore Carol, and their tactics of how to handle this world are so interesting. Michonne has a profound respect for Carol for protection and keeping us on top and safe."
5. Norman Reedus has a unique way of getting into character.
The fan-favorite actor revealed his unconventional way of transforming himself into the crossbow-wielding walker killer. "A lot of Motorhead, a lot of coffee and I play Candy Crush a lot," Reedus said. "I'm so into it, it's ridiculous. I spend hundreds of dollars." And when asked what his favorite emoji image is, he immediately responded, "I like the red balloon. I use that a lot."
6. More faces are coming to play.
In a show where death often takes center stage, more new actors are heading to the Georgia set and joining the cast. Among them is Corey Hawkins as comic book character Heath, and Nurse Jackie vet Merritt Wever, as a yet to be revealed character also from the source comic books.
Check out the trailer for The Walking Dead's sixth season, premiering on Oct. 11: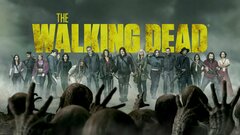 Powered by