Everyone Wants a Second Season of 'Big Little Lies,' But Its Future Remains Unclear
The cast and creative team behind Big Little Lies took home eight statues at the 69th Primetime Emmy Awards, but the biggest question of the night was if the show will return for another go-round.
The HBO series, based on the book by Liane Moriarty, was originally crafted as a one-off miniseries. However, with the success of the show, there's been clamor for more…and the team won't rule it out.
"If we were to do it again, and that was not [the original] intention, I think all the actors would feel ecstatic, because we love these characters," Dern said backstage following her win for Outstanding Supporting Actress in a Limited Series or Movie. "But that's up to Liane and what she would want."
Moriarty, for her part, would only allow, "I'm thinking about it. It's a beautiful possibility."
"We're thinking about it, we're talking about it, we're discussing it," star/producer Reese Witherspoon said. Added Nicole Kidman: "We love playing these roles. The storylines are so complex. Right now, we're just savoring this moment, because this is amazing." Kidman took home the award for Outstanding Lead Actress in a Limited Series or Movie.
The one person who was initially opposed to the
Big Little Lies
world continuing on was director Jean-Marc Vallée (who took home an Emmy for his work on the HBO project)—but he also has changed his tune. "Yes, it would be great to reunite the team," he said. "Are we going to be able to do it? I wish."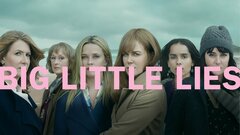 Powered by