Emmys 2017: 'This Is Us' Star Sterling K. Brown Finishes Acceptance Speech…Backstage (VIDEO)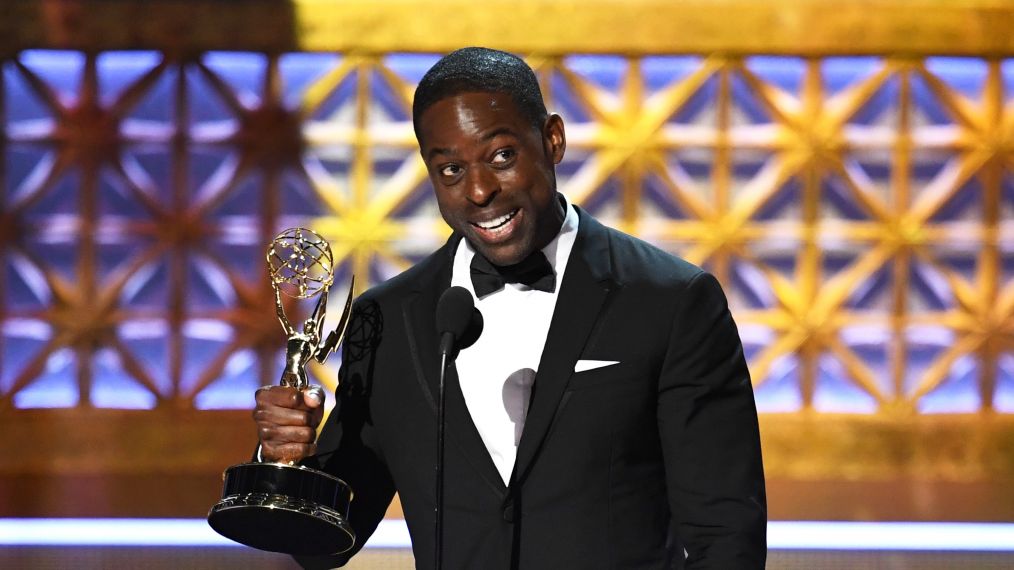 There's nothing worse than being played off the stage when you're trying to thank everyone who helped you win a Primetime Emmy Award. So what did Sterling K. Brown do about it when he won the Outstanding Lead Actor in a Drama Series, This Is Us, but wasn't allowed to complete his speech? He finished it backstage with members of the press.
Thanking the This Is Us writers, he said, "A show doesn't get seven acting nominations without some impeccable, beautiful, thoughtful writing. You guys are our life's blood so I want to thank you so much."
He thanked the directors and also expressed his gratitude to This Is Us creator Dan Fogelman. "He is the Hebrew hammer with which our house is built," Brown continued. "He makes me laugh and cry in equal parts and keeps me coming back for more. In his own little, small, special way he's not trying to make America great again. He's trying to make it the best that it's ever been and I love him for taking me on this journey."
Brown also thanked his wife (and fellow This Is Us actress)—which he would've done on the Emmy stage had he been allowed. "They cut me off before I got to thank my wife!" he said.
Although he won last year in the Outstanding Supporting Actor in a Limited Series or a Movie category for his role as Christopher Darden in FX's American Crime Story: The People v. O.J. Simpson, Brown is the first African-American actor to win in the Outstanding Lead Actor in a Dram Series categor since Andrew Braugher in 1998 for Homicide: Life on the Street.
"To be standing here nineteen years after [Braugher], I just want to represent. I don't want to be a flash in the pan. I don't want to be sort of happy go lucky. I love what I do so much," Brown said. "I feel like I have a thousand different people living inside of me and I'm just looking for opportunities to let them all out. It feels real big."
This Is Us, Season premiere, Sept. 26, 9/8c, NBC
Powered by