What's Worth Watching: 'The Flash' on The CW for Tuesday, October 6
The Flash, "The Man Who Saved Central City" (Tuesday, Oct. 6, 8/7c, the CW)
How can someone who has seemingly lost hope inspire it in others? That's the dilemma confronting Barry Allen (the terrific Grant Gustin), typically the sunniest and most optimistic of TV superheroes, as the second season of The Flash gets underway. The story picks up six months after the tragic events of last season's finale, in which Barry saved Central City—or did he?—but at a tremendous personal cost.
Barry's spending his nights secretly putting the city's businesses back together (very "Elves and the Shoemaker," on a grander scale), and his days brooding, lone-wolf style, dreading the mayor's upcoming "Flash Day" rally, which he has no interest in attending. His misery doesn't love company, even that of his endearing entourage of lab rats and BFFs. But when the celebration is literally crashed by a fearsome Hulk-like meta-human—nicknamed "Atom Smasher," for once not by Cisco—Barry soon discovers there's plenty of blame and regret to go around, and that to get the job done, Team Flash will need to work together.
The Flash boasts some unusually strong special effects, but the show's secret weapon is its heart. As Barry learns to lighten up and move on, reuniting with his extended family (and then some), it's the emotional beats you'll remember long after the dust settles in the winning of the day.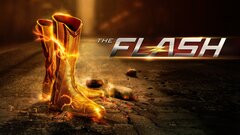 Powered by