Grant Gustin Speeds Into Season 2 of 'The Flash'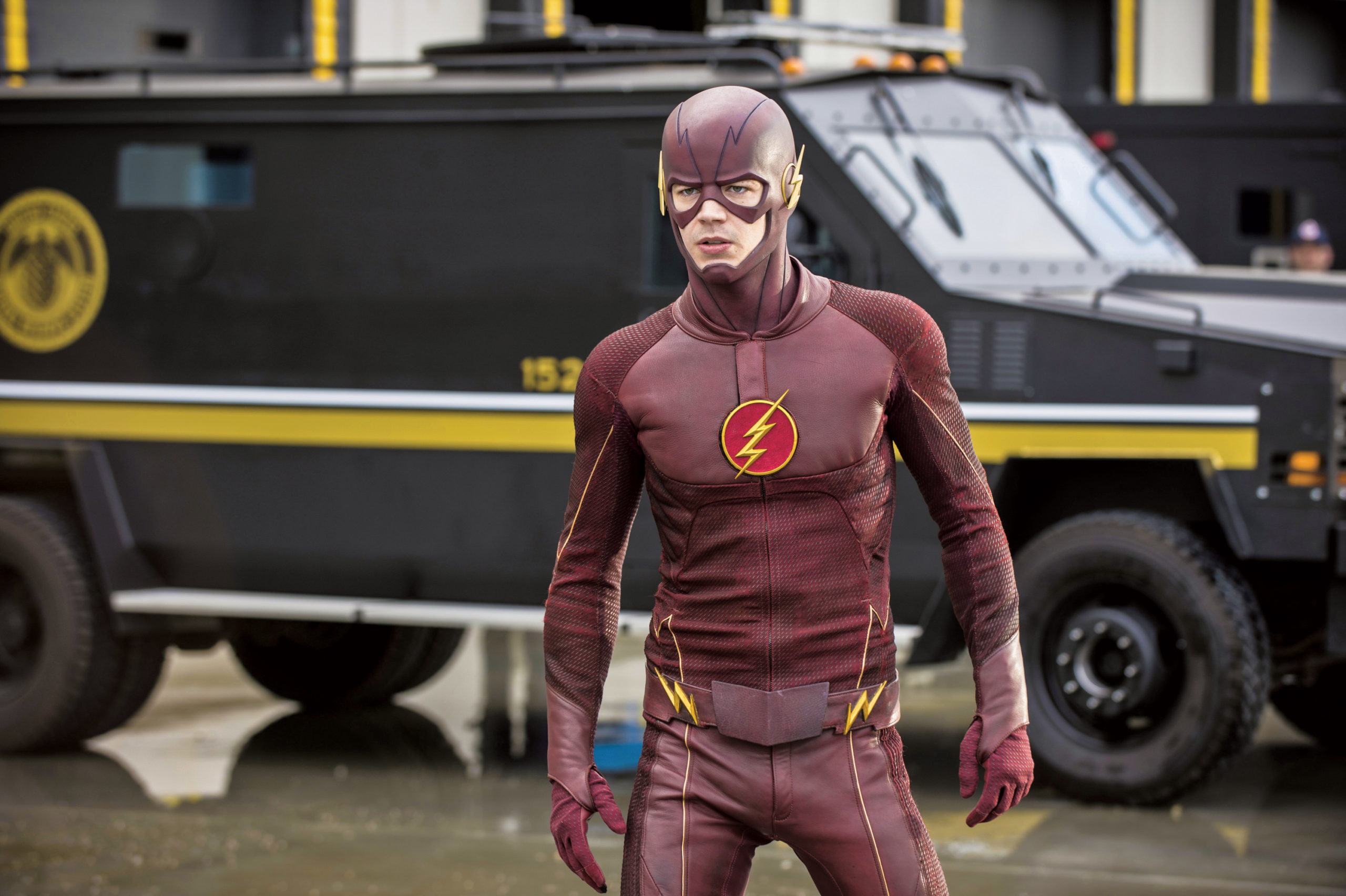 Two years ago, Grant Gustin was a relative unknown with a recurring role on Glee. Now he's the quick-footed star of The Flash, which just completed its first season as The CW's most-watched series ever. At this year's three-hour San Diego Comic-Con panel, Gustin is more than happy to share the stage with The CW's Arrow and DC's Legends of Tomorrow, Fox's Gotham and CBS's Supergirl. "The whole atmosphere is a celebration," says Gustin. "We're a part of this one universe, the DC universe, which is cool. It's one big family. It just makes it more fun, and it takes a little bit of the pressure off." Gustin talks more about his experience at last year's SDCC, The Flash's first season finale, and his love for all things…Superman?!
What did you think about Barry's decision in the season finale to risk everything to go back in time to possibly save just one person, his mother?
It had been the one thing that Barry had always wanted to do, so I think that his blinders go up and nothing else matters. All he can focus on is his mom's face and all the memories that he never got to have. And he takes a moment to say goodbye to her, which he never got to do. It was just so well-crafted, and it was such a good pay-off. It makes me emotional even thinking about that.
How tough was that good-bye scene to do?
It was the easiest and the hardest thing I've ever done as an actor, for sure. At the end of the day, when you're shooting it, it's all very technical. You're making a TV show and a three-minute scene actually takes hours upon hours to shoot. But, like I said, it was also the easiest thing I've ever done as a actor because it was just so well put together, and it just kind of poured out of everybody.
You had to say goodbye to cast member Rick Cosnett, whose character, Eddie Thawne, sacrificed himself to stop the Reverse-Flash. What can you tell us about Rick's last day on set?
It was emotional for the characters because Eddie was dying, obviously, and it was very emotional for the actors because we were losing one of our friends. But it's a time-traveling show, so who knows, maybe Rick will be back in some capacity. He's part of the Flash family forever, for sure.
If the first season was about Barry becoming a hero, what will be the big themes coming up in Season 2?
Now that Barry has that closure, it's going to be about putting all of that behind him and being able to be the hero that I think both of his parents see him as now.
You play the Flash, so why did you wear a Superman T-shirt at Comic-Con last year?
I'll probably be wearing one again this year. I'm just a big Superman fan. I grew up loving Christopher Reeve and Superman in general. Last year I was like, "If I wasn't here as an actor promoting The Flash and this was my first time at Comic-Con, I probably would have been in a Superman Halloween costume."
Were you excited when Brandon Routh, who starred in 2006's Superman Returns, appeared as the Atom last season?
Oh, yeah. Brandon, he's [like] a real-life Clark Kent. He's the coolest, nicest guy in the world. I'm sure I've embarrassed myself plenty with Brandon. He's very sweet, though, and humors me.
By the way, have you ever gone up to your costar Jesse L. Martin and done the Law & Order "chu-chunk" sound to him? To me, Jesse is Tom Collins from Rent.
To be honest, not only had I never seen Jesse on Law & Order, I didn't even know he was on it. He doesn't know that actually. I never told him!