The Inside Story on NBC's Ill-Fated 'Coach' Reboot
A Coach revival? The idea hadn't even crossed Barry Kemp's mind.
Kemp, who created the Craig T. Nelson comedy (and earlier in his career, Newhart), was busy last year developing a new pilot, Sonny Young, for CBS through Warner Bros. Television. NBC executives, disappointed that they didn't get a shot at Sonny Young, called Kemp last November with another idea: Would he consider updating Coach?
After getting a "yes," NBC made a commitment to the revival–only to pull the plug several months later.
The sports comedy originally aired on ABC from 1989 to 1997, and although it continues to run in syndication, it hadn't remained top-of-mind in the popular culture.
"It sort of made me laugh," Kemp tells TV Insider of the idea. "Revisiting a show 20 years later was not on my radar. Seriously? And then I couldn't stop thinking about it."
The Goal of the Coach Revival
Kemp and Nelson, who starred as college football coach Hayden Fox in the original series, began meeting monthly to kick around ideas and discuss whether they really wanted to pursue a revival. "We didn't want to tamper or hurt the original Coach," he says.
Eventually, Kemp's pilot was pushed, and NBC opted to end Nelson's drama Parenthood, freeing both of them up to take an actual swing at the revival.
The goal: Stay loyal to the show's original audience (now 20 years older) while also attracting new viewers who were too young to see the original. "The thing that made it problematic also made it creatively exciting," Kemp says.
Nelson, who had mostly appeared on dramas in his post-Coach career, was also eager to get back in front of a studio audience. "He had the natural question, 'Can I get back into this character?' I told him, as I started writing Coach again, that part of it came fairly easy. I just heard his voice again. And [Nelson] didn't have any trouble finding it as soon as he read it."
By March, Kemp and Nelson were ready to pitch all four networks. NBC heard the idea first, and immediately promised a 13-episode production commitment. "[NBC Entertainment chairman Bob Greenblatt] said, 'I would put this on right now,' and they took it off the table," Kemp says. "We didn't go anywhere else."
Coach was part of a wave of revivals in the works, including Netflix's Fuller House. In an age of too much TV, dusting off classic titles a familiar title makes it easier to promote and cut through the clutter. Having aired nearly 200 episodes in its original run, Coach is still familiar to viewers who watched it in the 1990s.
For NBC, the show seemed like a good fit: The network has been eager to get back into the multi-cam sitcom (complete with studio audience) business. And because the show is produced by NBC's Universal TV arm, it revives a franchise that it owns in-house.
And then there's the football element. "NBC has Sunday Night Football and I think they saw an opportunity to market it that way," Kemp says of the network's top-rated program. "If there's anything different about Coach this time, the fear during the first run was that it would be a show about football and not have any female appeal. This time, they were very interested in having it have something to do with football. The world had changed since we began the series."
What the Story Would Have Been
The new show followed Hayden's adopted son, Tim (seen at the end of the original series as a toddler), who had been tasked with launching a football program at the fictional Penn Institute (think M.I.T.). He's talked into hiring his father as his head assistant, giving Hayden­–still living in a Minnesota cabin, and back to his old, gruff habits­­–something to do a year after his wife Christine (played by Shelley Fabares in the original series) died.
"The more I thought about it, if Christine was still in his life, he wouldn't have a reason to slide back," Kemp says of killing the character off. As for Fabares, "after I made the decision, unfortunately, the news of that got out faster than I could get to Shelley. We had a long and nice conversation. She was disappointed, but I think she was disappointed in the way she found out the news."
Besides Nelson, Bill Fagerbakke was returning to the show as special teams coach Michael "Dauber" Dybinski, now married to another character from the original Coach, Judy Watkins, played by Pam Stone. Both Tim's wife and Judy couldn't stand Hayden, setting up much conflict.
Kemp said he and Nelson also discussed inviting another original Coach star, Jerry Van Dyke (who played defensive coordinator Luther Van Dam), back as a guest in a holiday episode, had the show gone on to a second season.
The new Coach was set in Pennsylvania's Brandywine Valley, which Kemp said he liked for the "whole American history aspect of it. The East Coast is hotbed of football but there are schools like MIT and Carnegie Mellon that have high academics and are not thought of as football factories. There is the reality of how much money is being made on college football now."
Kemp shot the pilot twice in one day, once in the afternoon and once in the evening, with different audiences. "The evening filming was very much a Coach crowd and the show played great, with especially strong responses to Craig, Bill, and Pam, who were obviously all from the original cast," Kemp says. "Craig received a standing ovation on his introduction and again at the end of the episode. It was a fun night."
Season 1 of Coach, slated to air in midseason, would have followed the characters as they put the team together; Kemp had plans to use social media to determine a team name, colors and fight song. "It was designed to arc back and gear us up for a second season in the fall," when the games would begin, Kemp says. Season 2 would see the games.
The Call That Changed Everything
But then, in late summer, Kemp got the call that NBC decided not to move forward. According to network insiders, executives felt Kemp made the show that he wanted to make, and they were frustrated that he didn't pay attention to their notes. Ultimately they felt the show didn't feel like it was the right fit on NBC, and pulled the plug.
"We did have some creative differences, that is true," Kemp says. "But by the same token, they also admitted that we delivered exactly what we said we would deliver. I think there were comments about it skewing older, although they knew it would. It wasn't casting. Some millennials said it felt a little dated. It doesn't have the rhythm of shows on now, but it wasn't designed that way. It was designed to be a continuation of a show that was on earlier."
Coach may still live on, however. As of press time, Kemp says there are three options still being explored for the revival. "I don't know if I'd say it's 'very much alive,'" he says, "but there seems to be some interest." Other insiders, however, say it's not looking likely. Stay tuned.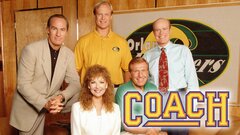 Coach
where to stream
Powered by