Roush Review: Decadent 'Deuce,' 'Top of the Lake' Sequel, Fox's 'Orville'
Sex has rarely seemed less sexy than as the currency of choice on the very mean streets of HBO's utterly fascinating The Deuce (urban slang for New York's seedy 42nd Street in the early 1970s). The Wire's David Simon and George Pelecanos bring to life the neon-and-grit netherworld of weary prostitutes and their bullying-coddling pimps, mobsters and crooked cops, colorful entrepreneurs and hustlers with such gamy authenticity you may reach for disinfectant while watching.
Vividly teeming with tragicomic life and reeking of desperation, danger and moral decay, the series takes a while to conjure an actual story—a common trait these days in high-minded long-form narratives—but by the end of the first eight hours, as decriminalized porn becomes big business with the splashy opening of mainstream sex classic Deep Throat, we're invested enough in this rogue's gallery of characters to want to know what happens next.
Leading a brilliant cast, James Franco plays twin brothers, giving each such distinctive traits you've never confused as to who's who: responsible barman Vincent, who initially resists getting involved with mob-fronted businesses, and reckless good-time gambler Frankie. Maggie Gyllenhaal is stunning as Candy, an independent streetwalker with a mind for business, which comes in handy when she becomes seduced by the (dirty) movies. The supporting players are knockouts, including Revenge's Margarita Levieva as Abby, a headstrong poor-little-rich-girl dropout college student who takes an interest in the fates of harried hookers like Darlene (Dominique Fishback), who are subject to the volatile whims of a brotherhood of pimps including Larry (Gbenga Akinnagbe) and the flashy C.C. (Gary Carr).
As an ensemble, they make The Deuce XXX-tra special.
STAR POWER LIFTS LAKE: Up for Emmys this year in The Handmaid's Tale and Big Little Lies, Elisabeth Moss and Nicole Kidman could be back in contention in 2018. Both are at the top of their game in Top of the Lake: China Girl, the emotionally charged, though erratically plotted, six-hour sequel (airing Sunday through Tuesday) to Jane Campion's acclaimed 2013 miniseries.
Moss reprises her role as dour, driven detective Robin Griffin, returning to Sydney after things went sour in exotic New Zealand. She's not kidding when she tells a flirty colleague, "I'm not in it for fun," but her grim, aloof demeanor is rattled when a young Asian prostitute's body washes ashore, stuff inside a suitcase. "Hello, darling. You want to tell me what you saw?" Robin addresses the corpse with characteristic focus and intensity.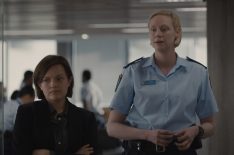 See Also
Elisabeth Moss' troubled detective is back.
The case intertwines with Robin's own messy personal life, involving Mary, the wayward daughter she gave up at birth (played by Alice Englert, Campion's daughter). Now 17, Mary is rebelling against her adoptive mother, an almost unrecognizably deglamorized Kidman, who has left her own family to pursue a lesbian relationship. Neither mother approves of Mary's taste in love interest: a manipulative 40something lout (David Dencik) who conveniently lives above the brothel that once housed the victim.
Game of Thrones' towering Gwendoline Christie costars as Miranda, an insecure rookie cop who seems to idolize Robin but whose motivations for becoming her improbable sidekick aren't always clear. These dynamic women help Lake rise above a contrived story propelled by everyone making awful decisions.
LOST IN SPACE: Fox's The Orville straddles a line between sci-fi parody and homage with such an uneasy disparity of tone, this shiny salute to Star Trek from Family Guy funny-guy Seth MacFarlane comes up short on both counts. The humor tends to be flat and sophomoric, and the clichéd action tropes merely routine, neither funny nor exciting enough to soar the way it should. "You're nobody's first choice for this job," novice Captain Ed Mercer (MacFarlane) is told before assuming command of the mid-level exploratory starship Orville, and as we meet the crew, which includes Scott Grimes as a snarky helmsman and Friday Night Lights' Adrienne Palicki as his First Officer, who's also Ed's ex-wife, it's all a bit too cute.
See Also
Matt Roush takes a deep dive into all of the major offerings within the busy 2017 fall TV season
After two outings on Sundays (following NFL double-headers, ensuring the best possible lead-in), The Orville zooms to its regular Thursday time period (9/8c) on Sept. 21, which is when things get especially dicey. The third episode, "About a Girl," presents a thoughtful Trek-like storyline to which the show struggles to do justice. The set-up: Crew members Bortus (Peter Macon) and Klyden (Chad L. Coleman), of an all-male Klingon-like alien race, have hatched a forbidden female baby and ask the ship's doctor (Penny Johnson Jerald) to perform a gender-reassignment surgery, setting off ethical debates and a possible interplanetary skirmish.
The show's smirky tone, embodied in MacFarlane's bland frat-boy smugness, never quite gels with the universal humanism the episode is aiming for. Is it too soon to ask for a next generation?
The Deuce, Series Premiere, Sunday, Sept. 10, 9/8c, HBO
Top of the Lake: China Girl, Sunday, Sept. 10 to Tuesday, Sept. 12, 9/8c, SundanceTV
The Orville, Series Preview, Sunday, Sept. 10, 8/7c, Fox