5 Things to Know About Seth MacFarlane's Space Opus 'The Orville'
Seth MacFarlane is manning the ship—in more ways than one—in his latest television outing, The Orville. Fox's genre-bending space odyssey, set 400 years in the future, centers on a mid-level exploration ship and its crew, including MacFarlane's snarky Capt. Ed Mercer, Ed's ex-wife-slash-first-officer, Kelly (Adrianne Palicki), and helmsman Gordon (Scott Grimes). The series is light-years away from what you'd expect from the bawdy executive producer. Here's a primer.
1 Don't call it a Star Trek spoof. A longtime fan of Star Trek and The Twilight Zone, MacFarlane calls The Orville "a tribute to a type of storytelling that I grew up with that you don't see a lot of on television anymore. I loved how the creators of those shows explored the important issues—race, religion, politics—through science fiction. Though there's comedy, this show is, at its heart, a drama."
2 This is a dream project for MacFarlane. "In some ways, this is the show that I came to Hollywood to do," confesses the Family Guy creator, who adds that he personally chose to go the live-action route over doing another cartoon. "I wanted to create a world that felt real," he says.
3 The captain isn't always right. Like the best leaders—Kirk, Solo, Star-Lord—MacFarlane's Mercer is a flawed hero. "The crew likes Ed, but they also call him on his shortcomings," MacFarlane says of the newly minted commander. "I wrote it like that because the people I work with in real life do the same thing."
4 The ship may be Fox's greatest enterprise. Production designer Stephen Lineweaver has crafted one of the new season's most massive sets, spanning two soundstages on the Fox lot. Even bigger was the challenge to not replicate the look of other sci-fi shows or movies. "We enlisted a lot of great artists and went through dozens of [designs]," MacFarlane explains. "The final ship is one that I love. It feels sleek, original and passes the most important test for me: Will it be a cool toy? I really hope there are toys!"
5 Yep—there are aliens. Diversity abounds aboard the Orville, with many species working alongside Ed and his human crew. Races like the single-sex Moclans and the blue-skinned Retepsians are the handiwork of Oscar-winning makeup artist Howard Berger (The Chronicles of Narnia), while Yaphit, the ship's engineer, voiced by Norm Macdonald, is all CGI. "He's a smart-ass blob of Jell-O," MacFarlane says.
Check out our interview with the cast of The Orville at San Diego Comic-Con 2017:
The Orville, Premieres Sunday, Sept. 10, 8/7c, Fox (moves to Thursdays, 9/8c, on Sept. 21)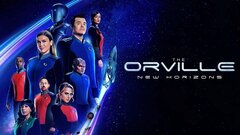 Powered by