Starfleet Rising: 'Star Trek: Discovery' Promises to Tell a Unique Origin Story
There are rules. And they're about to be broken. When the late, great Gene Roddenberry launched Star Trek—a rose-colored vision of tomorrow—back in 1966, he wanted everyone on the starship Enterprise to get along like cheese and crackers. Sure, a professional disagreement was OK here and there, but out-and-out conflict? Never! Competition? Jealousy? Spite? Leave that to the villains! Alas, Roddenberry's inspiring but dramatically crippling credo would plague the writers on all Trek series to come…until now, that is.
Star Trek: Discovery, set 10 years before the original series, blasts off with a high-stakes war between the United Federation of Planets and the brutal Klingon Empire—a conflict that triggers great turmoil among the good guys of Starfleet and lots of moral compromise.
"This is a series that asks each of our characters, 'Just how far will you go to win a war?'" executive producer Aaron Harberts says. "Our protagonists strive to uphold the Roddenberry philosophy, but these are living, breathing beings who aren't always at their best when the going gets rough." That's why, Harberts notes, "Discovery is the first Trek series with a lead character who is not a captain. We wanted someone at the center not yet fully formed, someone still discovering who she is and what she stands for as she fights the good fight."
Enter first officer Michael Burnham (The Walking Dead's Sonequa Martin-Green), who was born to humans but raised and educated by the logical, emotionless Vulcans. And we're not talking about just any Vulcans here—Michael is the adopted sister of the one and only Mr. Spock. She begins the series serving on the U.S.S. Shenzhou, under the command of Capt. Philippa Georgiou (Michelle Yeoh), but due to an explosive plot twist, she winds up on the U.S.S. Discovery, helmed by Capt. Gabriel Lorca (Jason Isaacs).
"Michael is forced to make a shattering choice in the very first episode," Martin-Green teases. "It has a profound effect—not just on her and on Starfleet but on the entire universe." Sounds huge, but then so is Discovery itself. "We are bursting at the seams from the weight and the breadth [of this series]," Martin-Green says. "This is an epically grand yet microscopically tuned, deeply emotional story."
And quite a gamble. Discovery's premiere episode will air on CBS, but the rest will be available only via subscription on CBS All Access—a Ferengi-esque attempt to sell Trekkers on the network's streaming service. But fans will certainly get what they pay for: Discovery is by far the most visually sumptuous series in the franchise, easily rivaling J.J. Abrams's recent blockbuster Trek movies. It's the first Trek series to be fully serialized, the first headed by a woman of color and the first to explore love between two gay Starfleeters—science officer Paul Stamets (Anthony Rapp) and chief medical officer Hugh Culber (Wilson Cruz). Expect several cool new alien species (a sure scene stealer is The Strain's towering Doug Jones as Saru, a Kelpien lieutenant), as well as a much more humane—and erotic!—take on those dreaded Klingons.
Plus, you've never met a Trek captain like Lorca, a stark contrast to the peacekeeper leaders of yore. "Lorca is extremely good at war," Isaacs says. "I avoid having him sit in that famous captain's chair as much as possible. In fact, I barely glance my buttocks across it, because Lorca is a guy who conducts war standing up, as if he's leading an orchestra. Playing him is as much fun as a man can possibly have…with his clothes on."
Star Trek: Discovery, Series Premiere, Sunday, Sept. 24, 8:30/7:30c, CBS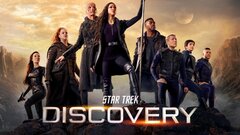 Powered by