Will 'Steroline' Come Back Strong? 'The Vampire Diaries' Cast Talks Next Season (VIDEO)
https://player.waywire.com/?id=CQQLTQ2KS729XDR0
No doubt the biggest change for The Vampire Diaries will be having Elena-less episodes next season. Can't wait until the Season 7 premiere (October 8) to find out what's happening to your favorite vampires and witches? The cast stepped out of Mystic Falls and onto the TV Guide Magazine/TV Insider yacht at Comic-Con to talk about #Steroline and the celebs they'd geek out over. Some highlights:
Who would you like to run into at Comic-Con?
Michael Malarkey: I would love to run into KISS.
Paul Wesley: I'd like to run into William Shatner.
Candice Accola: Harrison Ford. That'd be cool.
What can you tell us about next season?
Paul Wesley: The whole Season 7 opens up on a huge party. There's a cake, there's champagne.
Ian Somerhalder: We want to go back to that sort of season one/season two way of story telling. It's volatile, it's sexy, it's fun, it's all the cool stuff that people love about Vampire Diaries.
Kat Graham: Mystic Falls looks different.
Candice Accola: Steroline.
Oh, and though she's still going by Accola professionally, you'll notice the actress introduces herself as Candice King right at the end—that's because she married Joe King of The Fray last fall.
RELATED: More Comic-Con Features | Video chats with the casts of Outlander, Game of Thrones, The Walking Dead, Teen Wolf and more.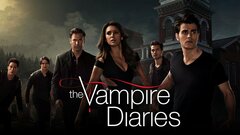 Powered by