Future of 'Sons of Anarchy' Spinoff 'Mayans' Looks Good Despite Setbacks
Scenes from Mayans MC, FX's Sons of Anarchy spinoff, were shown in a trailer for upcoming streaming channel FX Plus during Wednesday's FX panel at the Television Critics Association summer press tour. Does that mean the future of the Mayans MC looks good to go from pilot to series despite some recasting and reshoots?
FX CEO John Landgraf believes the chances are strong. "I'm really excited about where we are in the process with Mayans," he said. "I'm very confident about the future for that spinoff. It's also exciting to me because almost the entire cast of that show is Latino so that's been awesome. There's definitely familiar faces to me, like Edward James Olmos, but there have been a lot of new actors that we found that I didn't know before, which is great."
Landgraf also revealed the price point for FX Plus will be $5.99/month with new episodes of current shows available for commercial-free streaming the day after they air.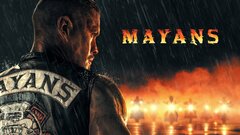 Powered by