Which DC Comics Characters Are Coming to 'Supergirl'?
Supergirl is set to fly into homes this fall, and she's bringing along a few friends.
The cast and producers of the new CBS superhero drama addressed the press on Monday at the Television Critics Association press tour in Beverly Hills, Calif., and shared a few details about the series, including the DC Comics characters that will be joining Kara (Melissa Benoist). General Sam Lane "will be coming to town with an agenda," revealed executive producer Andrew Kreisberg. The Red Tornado will also make an appearance, as well as Kryptonian villain Non from Superman II.
As for the Man of Steel himself, producers say he will play a small part in cousin Kara's larger story. "He will be a factor in our life, but you won't see him on screen, he will be more in the background," said executive producer Geoff Johns. "He plays a part of her evolution of becoming a super hero."
RELATED: 7 Actors Who Went From Superheroes to Superparents
Producers also praised Benoist in her high-profile role, adding she was the first actress who auditioned for the role and composed herself with confidence. "She has the strength, emotional depth and comedic chops," said executive producer Sarah Schechter. Added Kreisberg: "One of the great joys of Supergirl is she really loves being Supergirl, because Melissa loves being Supergirl."
Check out a brand new trailer for Supergirl, premiering Monday, October 26 at 8:30/7:30c on CBS.
More TCA Coverage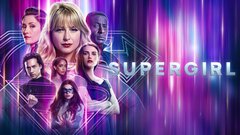 Powered by