TCA Critic's Notebook: Fox's Fall Lineup Is Growing an Empire With Nostalgia
Once upon a time, Fox's kingdom was built on the foundation of the pop phenom American Idol. Music is still key to Fox's future, but with the singing contest heading into its 15th and final season, it's now all about last season's megahit Empire. To no one's shock, network/studio heads Dana Walden and Gary Newman kicked off Fox's portion of the TCA summer press tour Wednesday with the news that they're doubling down with the show's flamboyant producer Lee Daniels, who's developing a new music-oriented drama, Star. And during the day's climactic panel session devoted to Empire, with Emmy-nominated Taraji P. Henson in full diva mode—at one point comically commanding Daniels to "rub my feet"—Daniels declared there's "no question" that an Empire spinoff will eventually take place.
That's how Dynastys, and TV dynasties, are built.
Otherwise, there was a distinct sense of what-year-is-this deja view hovering over Fox's TCA presentation, as the network turns to its own storied past to prop up its uneven present. Fox confirmed an event-series follow-up to Prison Break, which has enjoyed a renaissance on Netflix since leaving the air in 2009. Then critics were shown an extended Mulder-Scully clip from January's six-episode The X-Files reboot, which exhumed every "truth is out there" trope in a talky sequence that left much of the room underwhelmed. (I still "want to believe," but wish they'd teased us with something a bit more suspenseful.) Even the discussion of a modern-day Urban Cowboy series in the pipeline had the whiff of a bygone decade. As for another 24 sequel being written, this time without Jack Bauer: Why?
So what about the network's new fall shows?
The liveliest, and earliest, sessions were devoted to Fox's all-new Tuesday lineup, including two winning sitcoms fronted by familiar and very photogenic faces: John Stamos as a playboy suddenly confronted with two generations of family in the very cute Grandfathered, and Rob Lowe as The Grinder, a fake TV lawyer who returns to his Idaho family with an aura of glamour that unsettles his younger brother, an actual lawyer—wonderfully played by The Wonder Years's Fred Savage, evoking a Newhart-like slow burn in his return to acting after a successful run as a TV director.
In a classic press-tour moment, Lowe was asked by a reporter about whether he and Stamos ever joked about being so "criminally handsome," to which Stamos piped up from the back of the ballroom: "Rob, tell the truth, we've dated for years!" Spontaneous hilarity aside, it's a fact that these appealing stars have landed in very agreeable back-to-back vehicles. Lowe's pitch that The Grinder is "not derivative, this was a tone I hadn't seen before" is accurate enough: The blend of offbeat family comedy spiced by Lowe's outrageously overdramatic character, who meddles in situations at home and in the courtroom, is fresh and funny. Full House veteran Stamos, once again working with twins playing a baby girl (this time his granddaughter), described the comedy in Grandfathered as "sharp and edgy and contemporary … but it also has a whole lot of heart." Again, true.
These comedies will lead in to Tuesday's buzziest show, Scream Queens, a horror spoof about murders in a sorority house of mean girls, produced by Glee/American Horror Story's Ryan Murphy. Judging from the first half of a two-hour premiere, Queens is Murphy's team at its most garish: flashy, splashy and numbingly trashy, with a cruel and condescending streak to its cartoonish shenanigans. But it does boast pop culture's original "scream queen," Jamie Lee Curtis (Halloween), as the college's sorority-hating dean. She's the best thing in the show, and she dominated the Scream Queens panel. While Murphy was extolling her "largesse and strength and feminism," Curtis added, "Humor! It is a comedy!"
She went on to describe Scream Queens as a "social satire [that] strips away, flays the imagined behaviors of human beings. … Everyone here is wearing a mask, and this show peels off those masks each week, and it's brilliant." Curtis also revealed a trade secret, that she drives a pushpin or toothpick between her fingers while filming many scenes to keep from laughing at the craziness of it all.
I could relate. Not to the laughing, but to the pain. Watching Scream Queens is like taking a pushpin to the brain.
But at least it's memorable. Which is more than can be said for the shows being promoted during Fox's afternoon sessions: the futuristic crime drama Minority Report, based on the 2002 Steven Spielberg movie—his first to be developed into a series—this version focusing on the "pre-cogs," humans gifted with the foreknowledge of crimes not yet committed; and Rosewood, a clichéd crime drama starring the charismatic Morris Chestnut as a Miami pathologist who consults with the police (including a spit-fiery detective played by Jaina Lee Ortiz).
Critics have only seen about half of the Minority Report pilot episode, because of reshoots beefing up Nick Zano's role as the disgruntled pre-cog twin of bland hero Stark Sands (miscast). This session bogged down in a discussion emphasizing technology over character, and I couldn't help having post-cog flashbacks of a more memorable futuristic procedural from Fox's recent past, 2013-14's short-lived Almost Human.
Rosewood is much lighter fare—lightweight, you might say—a USA Network-like blue-sky procedural described by a producer as "an incredibly fun show that feels like a cocktail on the beach." This despite its cocky title character being saddled with a life-threatening medical condition. One bright spot: Lorraine Toussaint, so memorable on Orange Is the New Black, is a late cast addition as Rosewood's mom (despite being only nine years older than Chestnut). She captivated the room with an anecdote about witnessing an autopsy, during which the coroner told her to "Let death be death." I might watch a show called Rosewood if Toussaint was the star. But the Rosewood I've seen so far feels more like slow death.
More TCA Coverage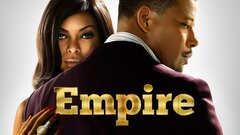 Empire
where to stream