'Sharknado 3': Let's Talk About That Insane Ending
Warning: Sharknado 3 spoilers ahead.
Grab your chainsaw because Sharknado 4 is gearing up.
At the conclusion of Wednesday night's premiere of Sharknado 3: Oh Hell No!, Syfy revealed that everyone's favorite low-budget franchise will live to see another day. And in the film series' typical over-the-top fashion, the news came courtesy of a LOL-worthy non-ending.
After Fin Shepard (Ian Ziering) saved America from the largest Sharknado threat yet, all seemed right in the world. A walk off into the sunset appeared on the way for Fin, April (Tara Reid) and their new baby Gil, who is presumably the first human ever born inside a shark.
Unfortunately, a chunk of spaceship fell from the sky and smashed down upon poor April, robot hand and all. And that was it. In the most infuriating cliffhanger since the series finale of The Sopranos, viewers were forced to head to bed pondering April's destiny. "Her fate will be revealed in #Sharknado4," a voiceover revealed. "Because we're not done yet."
And that fate is still up in the air. Syfy has asked fans to decide April's future by voting on Twitter, using the hashtags #AprilLives or #AprilDies, or voting online at Sharknado.syfy.com.
Of course, TV Insider readers shouldn't be surprised that the legacy will continue.
"I would love to be a part of this project for many years to come," Ziering told us earlier this month. "It's entertainment, and I'm having fun at the same time. So why get off a boat that isn't sinking?"
Let's just hope Tara Reid knows how to swim.
Plus: Enter our Sharknado 3 Sweepstakes to win some fin-tastic prizes!
[jwplatform w89wiCZH]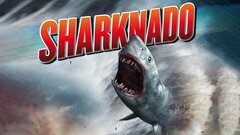 Powered by