Laughing All the Way to the Office: Lighthearted Streaming Shows Guaranteed to Liven up Your Commute
Whether it be by train, bus, subway, or carpool, commutes can be the worst part of the workday. You've likely learned to cope with a dull morning or afternoon commute by listening to music and podcasts. And now, thanks to streaming offline, you can also relieve the tedium by catching up on TV shows you never had the time to watch at home.
But sometimes a heavy drama or thriller can be too much to handle during an 8am commute, or at the end of the day, when your brain is fried from hours at the office. For a seamless, easy transition into or out of your workday, here are some fun, lighthearted shows to watch before and after a tiring day, no matter how long or short your travels are.
30 minutes or less:
If your commute takes about the same time as a pizza delivery, then there are a plethora of shows to make the half hour a bit more bearable. BET's Real Husbands of Hollywood parodies everything you love and hate about reality TV. Sending up Bravo's The Real Housewives, the show follows the supposed daily lives of Kevin Hart and other married celebrities including Nelly, Duane Martin, Nick Cannon and many more in Hollywood. The "drama" you crave from reality TV is ridiculously amplified in the fictional lives of these Hollywood husbands. You can find past episodes of the comedy streaming on Amazon.
Wet Hot American Summer: First Day of Camp also stars a huge cast of familiar faces and parodies camp culture and teen comedies from the '80s. The eight-episode Netflix series uses the same actors and crude but jovial comedy from the original film it's based on. Seeing adult Amy Poehler, Paul Rudd, Bradley Cooper and other household name celebrities reprise their roles as teens should definitely boost your mood in preparation for the day. And when you've finished this one, Netflix will be launching another Wet Hot American Summer series in August.
Around 45 minutes:
For something a little more captivating but still fun to watch, E4's Crazyhead is an award-winning British comedy-horror about two 20-something women who can see demons and team up to fight them. Available on Netflix, the show is triple combo of action, comedy and demons—think of it as a modern-day Buffy the Vampire Slayer, but funnier, and with two kick-ass female leads instead of one.
If you're in the mood for a satisfying balance of laughs and heart-swelling moments, then you need to spend your commute watching Jane the Virgin, available for streaming on Netflix and Hulu. The CW show is produced telenovela style, which explains its wild but captivating premise: Jane Villanueva (Gina Rodriguez), a hard-working, sweet, wholesome young woman, is accidentally inseminated with the sperm of a married son of a hotel mogul. With three seasons and plenty of drama and laugh-out-loud moments, you'll be hooked enough to get through your work day faster just so you can watch another episode on your ride back.
1 hour:
First off, we apologize for your very tedious commute, but we can guarantee you the time will pass with 7 seasons of Showtime's Shameless, which is exactly how it sounds: absolutely and utterly shameless. Shameless is the audacious, shocking, and undeniably hysterical Showtime comedy-drama you will get addicted to. The show centers around the Gallagher family, consisting of Frank (William H. Macy), a manipulative, alcoholic traditionalist, and his six children. This series definitely "goes there" and beyond, so prepare your commute to be filled with laughs, jaw drops and a couple tears.
A similar mix of comedy and drama is Netflix's Orange Is the New Black, a brilliantly written and directed series about a women's state prison. Almost every episode covers a character's history as to how they came to prison and what they were like before incarceration. The show has enough humor and twists to keep you glued to your screen, and you can finally dish about this Ruby Rose character you've been hearing about in the breakroom.
If Shameless and OINTB are too heavy for your commute, try The Great British Baking Show, a baking competition looking to find the best amateur baker. Set in Britain, the show is overall delightful and amusing, with its baking mishaps and brutally honest judging. TGBBS has become a part of British culture and has gained popularity in the U.S. as of late.
2 hours or more:
Sure, you can pass the time with a corny feel-good movie that you were half-interested in watching when it came out in theaters, or you can download and binge-watch these series that currently have one season online. You can finish the whole show in less than a week and be onto something new before you know it.
Fried, a British TV sitcom that aired on BBC Three in 2015, stars a group of underdogs working at a fast-food restaurant with despicably poor management and embarrassing working conditions. The six episodes are a quick watch, and whatever you face during your workday will never be as bad as the episode when the characters were locked in a meat freezer.
Netflix's new original series GLOW, starring Alison Brie, is worth the binge en route to the office for its distinguishing characters and entertaining stunts. Ruth Wilder, a struggling actress, auditions alongside a dozen other women for a professional wrestling promotion called Gorgeous Ladies of Wrestling. If you like watching wrestling or women crushing stereotypes, you'll love the first season of this comedic drama.
If you're feeling retrospective at all during your commute, watch Kristen Bell's character Eleanor try to become a better person in NBC's The Good Place (Season 1 is streaming on Hulu). After an immoral, lying and cheating Eleanor dies in a tractor-trailer incident, she is mistaken for another Eleanor and is sent to the "Good Place." Eleanor must keep up the facade and in the process change her behavior or else she'll be sent to the "Bad Place." Funny and delightful, The Good Place is lighthearted enough to get you through the day, but each episode's cliffhanger will make you wish your commute was a bit longer so you can finish the show.
What do you like to watch during your commute? Let us know in the comments.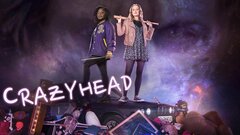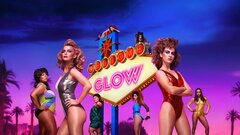 GLOW
where to stream