'Jane the Virgin' Boss on the Season 3 Finale's Twists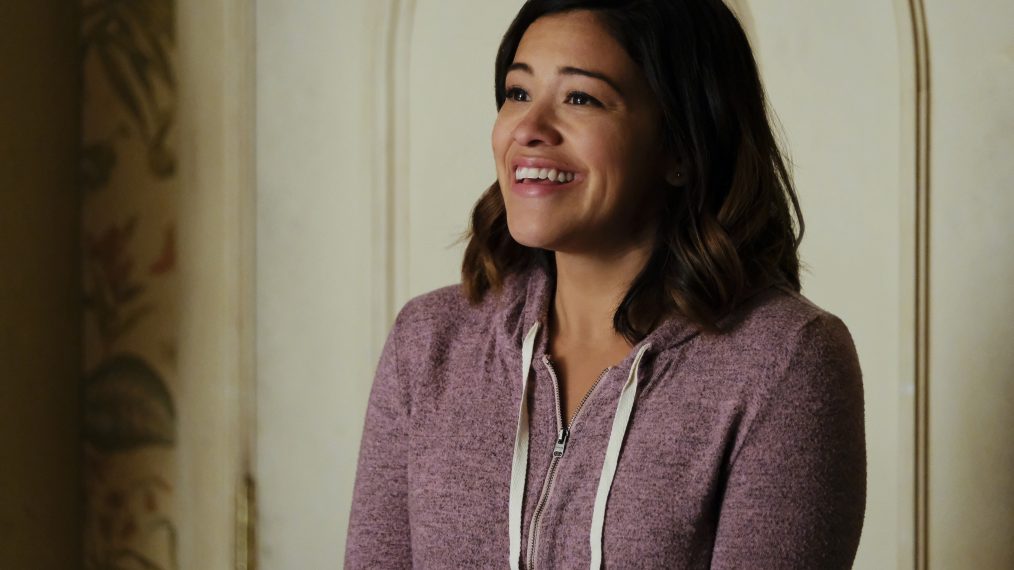 [Warning: This post contains spoilers for the Season 3 finale of Jane the Virgin.]
Jane the Virgin had a relatively hopeful season finale.
After the first season ended with baby Mateo's kidnapping and the second season concluded with newlywed Michael (Brett Dier) being shot, Season 3 found Xo (Andrea Navedo) and Rogelio (Jaime Camil) tying the knot—despite the reemergence of his (pregnant) ex—and Jane (Gina Rodriguez) reuniting with her former love Adam (Tyler Posey).
Jane the Virgin boss Jennie Snyder Urman broke down the hour's biggest moments and previewed what's to come in Season 4.
Who is Adam?
Though viewers have witnessed Jane's love stories with Michael and Rafael (Justin Baldoni) during the run of the series, her history with her first love is a bit of a question mark. "Jane sees Adam, you're going to need to know what his backstory is, why she never thought she'd see him again, why he was her first love," Snyder Urman told reporters. "That's going to take her on a real journey, and obviously there's big history there."
And his future with Jane could be bright. "He's an illustrator [for] graphic novels—he can illustrate and she can write; they'll have a collaboration at some point," Snyder Urman previewed. "He's a little bit more of a youthful energy. Jane has had a lot of weight on her shoulders, and this is somebody that's going to be reminding her a bit that she's 27 years old. He's a little bit more adventurous than maybe Jane is right now."
Anezka's (Yael Grobglas) newfound "twisted sister" friendship with Luisa (Yara Martinez) is trouble.
With Anezka (Grobglas) out for her twin sister Petra's (Grobglas) blood, she does want to hurt her. "[Anezka] wants to do away with her sister," teases Snyder Urman.
But that might not be the toughest obstacle for Petra, whose recent reunion with Rafael was squashed. "Petra, out of her own defensiveness and her own anxiety, pushed him away, and he was disappointed by that," Snyder Urman said.  "Their story is not finished."
And things won't be any easier for Raf. "At the top of next season, Rafael's lost all his money; his credit cards don't work," Snyder Urman said. "We have a villain rising in Luisa, who's heart turned black and is sort of out for revenge."
Can Xo and Rogelio live happily ever after?
Jane's parents finally tied the knot, but things will be less than smooth with his ex Darci (Justina Machado) expecting his child. "The biggest thing is how they're going to deal with this baby that Xo didn't want," Snyder Urman said, confirming that the baby is indeed Rogelio's. "The theme of the episode was full circle—the way that Michael reacted when Jane was pregnant, but then came back. Now Xo doesn't want this, didn't want to be a mom, but she had lived three years without Rogelio and it wasn't planned and she's going for it."
"I'm really interested in exploring their marriage, having them be married, how is this relationship going to be with her and Darci and Rogelio together," she continued. "How do they navigate that, and how are you a newlywed when you have a baby on the way with someone else? I feel like it's going to give us a lot of story potential, a lot of conflict, but also a lot of real obstacles that they'll have to fight through to preserve their marriage. This is a marriage that they have chosen and really worked hard for so they're going to be in that mindset and it's going to be more challenging than what they thought their honeymoon sort of period would be, but I'm excited to play it."
The Michael of it all.
Though Michael had a presence in multiple episodes since his death, the third season finale was the first time Dier had an extended onscreen presence (thanks to flashbacks). "We wanted this episode to have some cathartic moments with Michael and move her into a new direction," Snyder Urman said.
With Michael's death coming so early in the show's run, "There are always moments that we wanted to see," Snyder Urman said. "I've been waiting to see the moment when Alba and Michael practiced their vows. [We wanted to be] specific about the moments and then have him thematically tie everything together. Everybody loves when he's back and misses [Brett] so much."
And Snyder had some words of comfort for Michael fans. "We love him, and he loves being here, so it's definitely not the last time you'll see him."
Jane the Virgin will be back for Season 4 this fall on The CW, moving to Friday nights.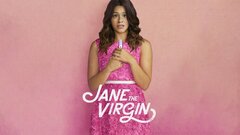 Powered by