Comic-Con: What '80s Buddy Films Inspired Fox's New 'Ghosted'?
Fox debuted its upcoming comedy Ghosted during a Thursday afternoon Comic-Con panel that also included a Q&A with cast members Ally Walker, Adam Scott and Craig Robinson (both men also serve as executive producers), plus creator Tom Gormican and showrunner Kevin Etten.
Ghosted centers on a former cop turned mall security guard named Leroy (Robinson) and author Max (Scott), a bookstore employee who penned a book about the possibility of a "multiverse"—and also happens to believe his wife was abducted by aliens. Recruited by a secret bureau, helmed by Walker's no-nonsense chief,  to track down a missing agent, the pair are soon paired up on a mission that may entail the paranormal—though Leroy doesn't believe it for a minute.
Asked about the actors' readily apparent, oddball chemistry, Robinson joked, "Adam and I will have a 'will they or won't they' vibe throughout the series."
Scott said the show aims for the "tone and spirit" of hit action/buddy films from the '80s—48 Hours, Beverly Hills Cop, Midnight Run, Ghostbusters—with some genuine scares thrown in. Etten tossed in 2013's This is the End, which costarred Robinson, as modern inspiration, while Walker said she was drawn to the idea of "taking The X-Files and spinning it on it's head."
Gormican said the show will be a combination of "monster of the week"—and there are some doozies in the offing—with the ongoing mission to uncover what happened to Max's wife and why the missing  agent, Checker, tapped the unlikely duo to help track him down. While Robinson and Scott are veterans of the beloved comedies The Office (Robinson) and Parks and Recreation (Scott) and belly laughs abound, all said Ghosted doesn't intend to sacrifice scares for the sake of a joke.
Still, Walker—a Sons of Anarchy and Longmire alum—is excited to flex her comic muscle in a power-suited character Etten likens to motivator/manipulators like Steve Jobs or former Lakers coach Phil Jackson. "She's a mom," a grinning Walker retorted.
Only Robinson will cop to personal experiences with the paranormal—and he really doesn't want to talk about it—but Gormican said the one time he thought his house was haunted, "it turned out to be a home invasion." Of the not-paranormal kind.
Ghosted premieres Sunday, Oct. 1, at 8:30/7:30c on Fox.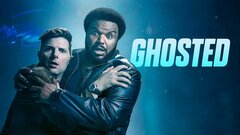 Ghosted
where to stream
Powered by