'Claws': 6 Reasons We Love Carrie Preston's Polly
Every week TNT's new series, Claws, manages to surprise fans with intense drama and layered characters. One such character is newly sprung, ex-con Polly (Emmy-winner Carrie Preston), a chameleon who easily morphs into other people by changing her voice and mannerisms to suit whatever is needed at the time. While this sounds fun, it often gets Polly into trouble (hence the jail time!), but other times, as in Sunday's new episode, it can help get her friends out of a jam.
TV Insider spoke to Preston about what's next for Polly; hoe she gets into character; and whether or not we'll be seeing more of Preston on Season 2 of The Good Fight.
Here are six things we love about her latest character:
She is a survivor
Preston says you could think of Polly's various personas and how easily she slips into them as an addiction, but she sees it more about survival. "Although we haven't gone into the specifics of her past, the past that I created for her has her coming from some very sad and damaged places," Preston says. She's trying to reinvent herself. She's curating herself all the time in order to survive and create a better life for herself."
She's a good friend
With trouble mounting for all the women, salon owner Desna (Niecy Nash) is going to need her friend Polly to help in a big way. "Desna takes us under her wing and allows us to be who we are, even when we flip, and we start to fall," Preston explained. "She's the one who catches us. I think we all depend on her for that. In turn, we all have her back, as well."
She will cut a bitch
In the trailer for this week's episode we see Polly with both a plate of freshly made cupcakes and a butcher knife on Virginia (aka China Doll, played by Karrueche Tran). What's that all about? "Polly is incredibly gifted at recognizing people's vulnerabilities, and their faults, and their lies," Preston says. "She knows that Virginia is up to no good." Of the Polly-Virginia scene in particular, Preston says she was excited when she first read the script. "It was another opportunity for me to show the audience that Polly was just fine in prison. Someone to actually be feared. Don't let her suburban, country club façade fool you. She can cut a bitch."
She has dancing moves
We've already seen some of the surreal moments on the show like Quiet Ann's  (Judy Reyes) lip syncing in the first episode and the pool dance in last week's episode and there's more in Sunday's episode. "We laughed so hard and we worked really hard," Preston says of Sunday's number. "We wanted it to be one of our better elevated moments."
Her nails speak volumes
Look closely and you'll see that Polly's nail designs reflect the story being told in that particular episode. In this week's scene with Virginia, for example, "I do believe that I'm wearing what they refer to as "Eyes Are Watching You" nails. Polly's got her eyes on Virginia. I loved that concept. If you look closely, you can see eyeballs on them."
Claws + The Good Fight crossover?
Before Polly, there was Elsbeth Tascioni, who we saw pop up on CBS's The Good Wife spin-off earlier this year.What would Elsbeth and Polly think of each other? "I've often thought it would be wonderful to see Elsbeth either prosecute or defend Polly, because either one of those would be very hilarious." Will we see Preston again on the second season of The Good Fight? "I'm hoping and, as I always do, praying that they will invite me back. I don't think they even start shooting again until later in the year. I love playing that character and I'm always happy to go back and visit her again."
Check out this behind-the-scenes feature on last week's episode:
Claws, Sundays, 9/8c, TNT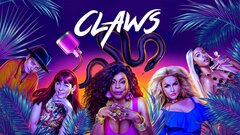 Claws
where to stream