'Claws': Run for Cover! Uncle Daddy's Got a Gun (VIDEO)
While the new TNT series Claws can be labeled a dramedy, with its comedic and dramatic elements on full display weekly, things are definitely getting more dramatic (and increasingly dire) as we head into Sunday's all-new episode.
Sure, nail salon owner Desna (Niecy Nash) is still reeling from her part in the death (and body disposal) of money launderer Roller (Jack Kesy), but try as she might, she can't just put the terrible event behind her. Especially not when Roller's father, Clay (aka,"Uncle Daddy"—played with bravado by Dean Norris), is doing everything in his power to find out who offed his son, right?
Of course, everyone seems to be in a heap of trouble in this week's episode, including Polly (Carrie Preston), who reunites with a gold-digging, former "friend"; Quiet Ann (Judy Reyes), who is in a big lady-mess of her own; and Virgina (Karrueche Tran), who actually shot Roller and, with Desna's help, got rid of the body.
So what will all of the women do when Uncle Daddy shows up with a gun—and a hostage—and demands answers about his son's death? Check out the exclusive clip below to find out:
Claws, Sundays, 9/8c, TNT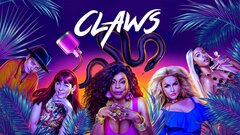 Claws
where to stream
Powered by