TNT's 'Claws' Will Be First Basic Cable Drama to Stream on Twitter
Right after TNT's new Niecy Nash-starring drama Claws premieres this Sunday (June 11), an encore of the first episode will be streamed on Twitter, making it the first basic cable drama to air on the social media platform.
Along with Nash, the series set in a Central Florida nail salon also stars Carrie Preston, Jenn Lyon, Judy Reyes and Karrueche Tran. They will all be live-tweeting from the show's New Orleans filming location during the TNT airing of the premiere (9/8c) using the hashtag #ClawsTNT.
Then, at 10/9c, the Twitter-streamed encore of the first episode will be available at claws.twitter.com and at the @ClawsTNT Twitter handle, where fans can also find a curated timeline of show-related tweets (note that the streaming is available to U.S. Twitter users).
This marks the second time in recent months that Twitter has teamed with a Turner network to stream a show. In April, an encore of TBS' Full Frontal With Samantha Bee's "Not the White House Correspondents Dinner" streamed immediately following the network premiere of the special. That appears to have been successful enough for both parties to try it again; this time with a drama.
"As we saw with our Full Frontal With Samantha Bee special in April, a streaming encore on Twitter has the power to reach new audiences and catch the attention of viewers who might not otherwise have sampled our show," said Michael Engleman, executive vice president of entertainment marketing and brand innovation, in a release. "By giving viewers the opportunity to watch the premiere episode of Claws on Twitter, we're helping this terrific series build a strong fan base across the entirety of the season, and we're establishing a meaningful connection with those fans through social media engagement."
"We are excited to collaborate again with Turner to help them reach new audiences on Twitter," added Anthony Noto, Twitter COO. "Fans will be able to watch the video of the highly anticipated premiere of Claws and Tweet along with viewers and the cast all on the same platform."
And for those who manage to miss both the TNT premiere and its Twitter-streamed encore, there is still hope—the first episode of Claws will be available on tntdrama.com, TNT On Demand, the TNT mobile app and through primetime TNT encores airing throughout the week. So no excuses!
Claws Series Premiere, Sunday, June 11, 9/8c, TNT; encore streaming on Twitter at 10/9c.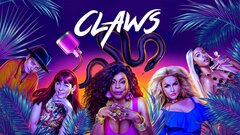 Claws
where to stream
Powered by