6 Storylines We'd Like to See Resolved on Season 4 of 'Younger'
Since its premiere in 2015, Younger has largely remained a hidden gem in TV Land's current sitcom lineup, but it seems like a growing, loyal fan base is catching on to it, as it heads into its fourth season starting Wednesday. The question of the hour for a fan now is whether you are on Team Josh or Team Charles. Depending on where your loyalties lie, this may indicate how you feel about Liza Miller (Sutton Foster).
To refresh your memory, time caught up to Liza's innocent, but poorly devised, plan to reinvent herself in the publishing industry as an ambitious 20-something woman. The catch? She's actually a 40-year-old suburban housewife. Her web of lies became too tangled for even her to keep up with, and she had to get real with Kelsey Peters (Hilary Duff), her work BFF, about leading a double life, and after getting caught cheating on Josh (Nico Tortorella) with her superior, Charles (Peter Hermann), a senior editor at Empirical Press.
Season 3 was filled with a surplus of OMG moments and the following cliffhangers that we hope will be resolved this upcoming season.
1. That Josh-Charles-David-Liza Love Quadrangle Is Still Happening
If only we were as lucky as Liza to have at least two quality (sorry, David) men like Josh and Charles in our lives. But be careful what you wish for. Having two men pursuing you may seem manageable, at least to Liza, before her husband was added into the mix and elevated the love triangle to a love quadrangle. It's not official, but based on his track record, David (Paul Fitzgerald) may be cut out out of the equation before he knows it, but then again, since they have shared at least 20 years of their lives together and have a daughter, no direction can be sealed off. On the other hand, Josh has developed a soft spot for Liza, and vice versa, while Charles and Liza share a charming, intellectual relationship.
2. Liza Should Get Divorced From David
While they have committed to something resembling conscious uncoupling, their one-night stand made them reconsider whether they were really ready for divorce, though within a matter of weeks, they finally made the mutual decision to call it a draw. What the future holds for their relationship is still up in the air but David was keen on seeing if his romantic feelings were reciprocated.
3. Liza and Kelsey's Relationship Fallout May Cause a Temporary Friend-Breakup
Liza and Kelsey have developed such a tight-knit bond that it's difficult to fathom that one lie, while monumental, would drive a wedge through their friendship for good. They may be destined for a temporary friend-breakup, but hopefully, it won't last too long. We expect that Kelsey won't let Liza off the hook right away, and with good reason, but Liza and Kelsey have one of the strongest female relationships on television right now, and we are definitely not prepared to see that disappear anytime soon.
4. Kelsey Needs to Give Colin The Peace Sign And Say, "Boy, Bye"
It's about time Kelsey hooks up with someone who doesn't physically look like the male version of herself. Kelsey's list of suitors looks like a lineup from the cast of JoJo Fletcher's season of The Bachelorette. While she has distinct taste in men (translated simply, she is very picky), she should stop committing to self-destructive relationships and focus on herself. According to Diane Von Furstenberg, "The most important relationship in your life is the relationship you have with yourself." This quote relates to this blonde fashionista's trajectory in love. She should focus on developing a solid relationship with herself before pursuing another millennial male who is resistant to long-term commitment. It was fun while it lasted, but Kelsey needs to take a break from going on a boy bender because she needs to reevaluate what she desires out of a partnership.
5. Diana Should Commit to Richard
While everyone else's love life seems to be under construction, Diana is actually the one who is lucky in love. It looks like her rendezvous with Richard, a therapist, could produce a sustainable relationship based on their palpable chemistry. Diana let down her barriers upon admitting she loves Richard. We've seen Diana come into her own and be herself, shedding the layers of her prim and proper behavior, while maintaining her signature deadpan funny charm that we adore.
6. Maggie Should Finally Settle Down and Find Her Bae
Maggie may not have "bae" in her vocabulary, but we can imagine her looking it up on Urban Dictionary. Liza's BFF Maggie has been living the bachelorette lifestyle, but it seems like the appropriate time for her to develop a relationship that lasts more than one episode.
Hoping that all of these storylines will be resolved in the first episode is a stretch, but fingers crossed we get more answers than questions to the cliffhangers above in this upcoming season.
Younger Season 4, Wednesdays at 10/9c beginning June 28 on TV Land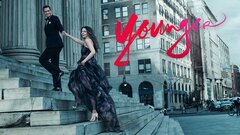 Younger
where to stream
Powered by