Julie Chen Teases 'Big Brother' Season 19 Twist: 'The Houseguests Will Be Tempted Like Never Before'
If it's summer, it must be time for Big Brother! With the houseguests sequestered and only a fews days away from checking in to the Big Brother house, host Julie Chen can finally reveal, "There's a new twist to the Sunday show!"
What exactly the twist entails remains to be seen, and Chen teases, "I can't tell you anything too specific about the twists, but I will tell you that the houseguests will be tempted like never before. So you'll have to tune in to find out all the fun we have in store for the houseguests this summer. As always, expect the unexpected!"
Sources close to the CBS series reveals that one twist is "the Den of Temptation," a space where America will vote to send a houseguest where they will be presented with an enticing, and potentially game-changing offer. But we all know that Big Brother doesn't give anything for free; so expect that there will be big consequences for falling for temptation.
Big Brother has unleashed countless twists in the 18 previous seasons, including double eliminations, twin swapping, and secret family members, so there is no doubt BB19's big twist will be equally shocking.
When asked what it takes to get cast on the series, Chen shared, "We're always looking for authentic people from across the country that have one thing in common: big personalities. Sometimes those personalities help them out and sometimes it gets them trouble. And this summer we definitely have houseguests that are unlike any that have played the game before."
[Click here to apply for Big Brother 20]
Because much of Big Brother happens in quasi-real-time, Chen doesn't know who's going to win each season any more than audience does, and she enjoys the ride as much as the viewers at home. "We have seen every type of person win Big Brother," she shares. "From master strategists to masters at flying under the radar and everything in between, we can never predict who will win the game."
In the 18 previous installments of Big Brother, Chen reveals the moment that shocked her the most was in Season 14, when Dan Gheesling staged his funeral. "And it worked! His funeral brought him back to life," remarks Chen.
But how would Chen survive in the house if she were to play the game? With the help of her ideal fellow houseguests: Jesus Christ, Alexander Hamilton and Joan of Arc.
Big Brother, Season Premiere, Wednesday, June 28, 8/7c CBS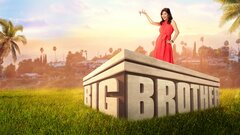 Powered by