'Shadowhunters': Will Magnus' 'Freaky Friday' Affect Malec's Future?
You Are Not Your Own
Season 2 • Episode 12
[Spoiler Alert: Do not read ahead unless you have watched "You Are Not Your Own," the June 12 episode of Shadowhunters. Major plot points are discussed in the interview below.]
Freaky Friday a la Shadowhunters, right?
After last Monday's return of Freeform's sci-fi/fantasy series, we knew that the evil Azazel (Brett Donahue) had done something to Magnus and Valentine—but, come on, seeing Harry Shum Jr. and Alan Van Sprang have to play body-swapped versions of each other in Monday's installment was more than a little fun!
And while it may have been fun for the actors, it definitely wasn't fun for our favorite bisexual warlock and the villainous Valentine. In fact, it was a good time for TV Insider to talk with Shum to see if there would be repercussions to the body switch and how it might impact Magnus' relationship with dreamy Shadowhunter Alec (Matthew Daddario).
Let's see what Shum had to say about Monday's episode, "You Are Not Your Own," and what's coming next.
When you hear you had to play Alan van Sprang inside of Magnus. What are the challenges in that, and how did you prepare? Did you and Alan take notes with each other?
Harry Shum Jr: We talked to each other about at least the tone of it, and obviously, we're going to play things differently, and he has his own process. But for me, it was a delight. I was excited to do that. It was definitely a challenge because [Valentine's] not exactly the easiest person to really just say, "Oh, yeah, I'm going to mimic him." He has so many different aspects of him that make him Valentine.
And, also, Alan brings little, subtle things that make it a little more difficult. You have someone that may be flamboyant and what not, and you try and capture that, but he definitely always plays everything a little under and a little more subtle, which I loved. So it was really cool to draw out a different aspect of him, or I saw a different aspect of him when I was really studying him with the tapes.
Was it tough to do the scene in the episode with Matt? You guys have played so many scenes together, but yet you're playing it very differently this time around.
We found our groove pretty quickly. It was also refreshing to play [it] completely different and really have their interactions seem really foreign. Even for Matt, playing it off as a little more of a detective with someone [with whom] he usually doesn't have to have his guard up.
Have you had a chance to see Alan's portrayal yet? He does such a good job playing Magnus inside of Valentine.
Yes, I had a scene with him, but I haven't seen him in the prison cell where he's interacting with the other characters. I'm really excited to see his performance because I think the world of him as an actor.
When Valentine's body is being tortured and Magnus sees the flash of his mother, and he says, "Mama," are we going to see that play out a bit more sooner than later?
This is a memory that he's trying to block out. In previous episodes when he was talking about Camille helping him when he was thinking about ending his life, that plays into it. It's not being brought up for the first time on the show, and the writers have been sprinkling it in. We're definitely going to get to see how that situation really plays out for him as far as how it has affected him throughout his life.
If that comes up fairly soon, how will it affect his relationship with Alec?
I don't think it will affect Alec specifically, or the relationship, but definitely it resurfaces a different side of Magnus—that side is pained and in trauma, and almost nothing can really heal him outside of time, really. Hopefully the people around him, and Alec, can give him that but also be supportive in him trying to figure out how to regain his step again where we know him as a smooth and strong character. This is when it breaks him down to the point where Alec is going to be a little worried and not knowing what to do. It's going to be interesting to explore and to bring the audiences in to a different ride than we've been, as far as what they've dealt with each other.
For clarification purposes, should we assume Azazel is gone for good, or is he just temporarily gone? The show veers from the books sometimes and, also, Azazel is a great villain to be gone so quickly.
It's really hard to kill a greater demon. Especially how he goes away. He disappears before you shoot him, so obviously, he does go away, but we never really know if he goes away for good. Hitting him in the sternum is a really hard shot, man. Alec has a really good shot, but a millimeter will determine if he actually killed him or not.
RELATED: Subscribe To TV Insider's Shadowhunters Newsletter
Anything else you're looking forward to in the next few episodes for Magnus?
What's great is how he deals with trauma. That's going to be interesting because he deals with it in an unorthodox way, and in ways that are going to surprise audiences and also going to surprise the other characters. We're going down this path where we're not going to see completely broken down Magnus, and we're going to see little hints of him trying to regain that strength. Also, there's [the] fun of him re-exploring his past—and not just the traumatic experiences, but also the good experiences. That's always fun when you get to see that side of Magnus.
Shadowhunters, Monday, 8/7c, Freeform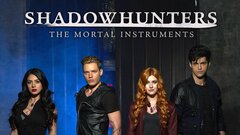 Powered by