'Shadowhunters': Matthew Daddario Talks Weddings and a Malec Romance
In tonight's episode of Shadowhunters, it appears that Alec Lightwood (Matthew Daddario) is all set to marry the Clave's goody two-shoes Lydia Branwell (Stephanie Bennett), but does anyone actually want that? We know it's not what Magnus Bane (Harry Shum, Jr.) wants, since he's made his interest in Alec very clear—and it looks like he's not going away very easily either.
We chatted with Daddario about the episode, mysteriously titled "Malec," and what's to come in the hunt for Valentine (Alan Van Sprang).
So what's going on in this episode?
Well, we've watched Alec struggle, and we've seen poor Magnus' struggles. Now we have this lady from the Clave coming in, Lydia, and we're getting married. So, we're all prepared, we're all excited, and [Alec's] got some problems with Jace (Dominic Sherwood), so there's a lot of issues going on, but hey, this marriage seems like it's going to solve some problems, so Alec is at least a little excited about what may be happening.
RELATED: Dominic Sherwood on the 'Mind-Blowing' Fandom
It's pretty telling that the title of the episode is "Malec." Are we going to see Magnus dropping in on the wedding?
It would be kind of deranged just to call the episode "Malec" to tease everyone, so there might be something that sort of happens, maybe not. It could be a little bit of a tease for next season.
Were you shocked when you originally read the script?
Yes, I was shocked because there's definitely something there that I don't think people expect. I don't think anyone really knows what's going to happen. I've seen a lot of people's theories. Some people will be happy, and others maybe not. It's emotionally very involved, so I'm looking forward to everyone's reactions.
Going into the ceremony, how much is Alec thinking about what Magnus said in the last episode, about how Alec and Lydia are going to be lonely their whole lives?
I think Alec considers all these things that other people are saying. He doesn't really let that on. He internalizes it, which is a sign of who he is, to take things on himself and not allow others to know what he's thinking. Obviously, there is an attraction between Magnus and Alec, and Alec is obviously aware of this, but he is fighting it because of family and work and all these things in the way. He would absolutely consider what Magnus discussed, and I think he's aware that his decision right now might not be the right one. So, he has to make a choice. And we'll see that choice in Episode 12.
Will we see Alec and Jace overcome their differences?
They are parabatai, so there's only so much of a rift between them allowed. They're brothers. They've had some differences, and I think Alec is not very happy with Jace, and Jace is not very happy with Alec, but Jace now faces his own struggle, having found out this girl he's been pining over is actually his sibling. So Alec might feel that Jace needs his help right now, and it's bigger than their little petty arguments.
Is there any development in the hunt for Valentine?
Yes, there is. There's some banding together in the hunt, and focus is really going into it. This is where we really line up for the season finale in this hunt. There's definitely some development.
What was the weirdest part about filming the wedding scene for you?
Weddings are quite a thing. I've only been to one or two weddings. In real life, that's quite a moment in someone's life, so there was definitely a bit of unease on my part. It felt like I was at my own funeral or something; it was kind of crazy.
Are there differences in traditions for Shadowhunter weddings?
There's definitely some ritual that's different. They wear gold, go through a runing process, and also it's full of Downworlders and Shadowhunters. So you should be lucky to have such a thing at your wedding. A mundane wedding full of all these supernatural characters? That would make quite an after party.
Shadowhunters airs Tuesdays at 9/8c on Freeform.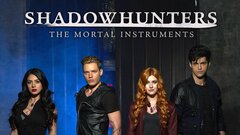 Powered by