'Battlestar Galactica' at ATX: The Cast and Showrunner Reflect on the Series
The Battlestar Galactica cast and showrunner Ron D. Moore reunited at the ATX Television Festival on Saturday to reflect on the groundbreaking series.
"What got us all was the writing," Edward James Olmos (Adama) said during the panel honoring the Syfy series. "It was brilliant."
Olmos ended up being a real-life leader off-set: The cast recalled his speech to them while in production during the first installment of the mini-series, emphasizing how seriously they had to take the project. And Adam's famous "So say we all" speech was scripted, but the repetition was improved, with the cast genuinely getting louder, unplanned, with their returning "so say we all."
One other notable unplanned aspect of the production of the series? How the cast would react when it appeared Katee Sackhoff (Starbuck) was leaving the show her character's death in Season 3.
"I got this cryptic phone call from Ron and [executive producer] David [Eick] in my trailer, and they were like, 'We want to talk to you about something. You've done nothing wrong.' In my mind I'm thinking, 'I've totally done something wrong,'" Sackhoff recalled with a laugh. "[They said,] 'We're going to kill you. But we're going to bring you back, so don't worry. You're not going to be you. But don't worry. Everyone is going to think you're dead—we're going to take your name out of the credits, you're going to go home. And don't tell anyone.' And I said, 'Okay.' And I went to Mexico for a couple of episodes. The problem was I was lying to everyone."
"This is one of the stupidest things that David and I did in the entire run of the show," Moore interjected. Added Sackhoff: "I'm like a child and I tell my mom…but finally I was like, I can't do this anymore; I'm telling Eddie. Because if I tell Eddie, he's telling everyone. And so I told him, and then he told everyone while we were doing the Maxim photoshoot. He stood up on something and told the entire cast that I wasn't really dead. And I felt like such an a–hole."
Initially the producers thought they were doing the right thing by keeping the rest of the cast out of the loop that Sackhoff would return in time for the third season finale.
"While this is happening in Vancouver, we're getting calls in Los Angeles saying, 'They're really upset on the set. You don't understand, they're really freaking out,'" Moore recalled. "And we're going, 'Hey, it's working! This is going to be the greatest thing of all time.' And then I get another phone call: 'Eddie is pissed. Eddie is walking around saying this is the death of the show.' It just spiraled and we're like, 'We're just trying to keep a secret on a TV show!' You didn't even make it a week. It was a matter of days: call it off, call it off!"
See Also
Plus, the creative team reveals how they turned around the fan-favorite 'Phase One' episode on a tight schedule.
The cast's close bond was apparent during the panel, which included Mary McDonnell (Roslin), Tricia Helfer (Six), Grace Park (Boomer/Athena), James Callis (Gaius), Michael Trucco (Anders), as they recalled their early days working together. Callis and Helfer admitted to being nervous before shooting and having to practice the wardrobe removal, spine-glowing scene in the first part of the mini-series, while McDonnell and Sackhoff revealed they got in trouble during one of their first scenes together when they got the giggles and couldn't stop for literally hours. And with some of the core cast missing, series star Jamie Bamber Skyped in to send his love to his cast mates.
"I don't think I'll ever do another show like this in my lifetime," Olmos admitted. So say we all.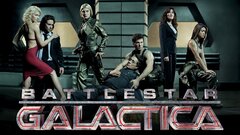 Powered by