Fight Club! Netflix's 1980s-Set Comedy 'GLOW' Revisits 'Gorgeous Ladies of Wrestling'
The 1980s fight show Gorgeous Ladies of Wrestling wasn't simply the WWF in short shorts. Its unique sense of girl power is central to GLOW, which follows actress Ruth (Alison Brie) as she stars in the series alongside ex-pal Debbie (Betty Gilpin) and deals with its washed-up director, Sam (Marc Maron). We wrestled five more facts out of the comedy's stars.
1. Any resemblance to actual persons isn't coincidental. While Ruth's storyline is fictional, other characters are based on actual GLOW girls, including fan favorites Mt. Fiji and Farmer's Daughter. "Those women were wrestling megastars," Maron says.
2. These ladies can kick your ass… Wrestling is staged, but that doesn't mean the haymakers are fake. The actresses trained with pro Chavo Guerrero to make each body slam authentic. "By the end, we were giving input about moves we wanted to do," Brie says.
3. …and rap you under the table. In the old GLOW, every wrestler busted a full rhyme before a fight. "The rapping may be the most off-putting-slash-wonderful thing about the original," Brie says, "so we incorporated it in the show—it was even part of our auditions!"
4. The 1980s are the setting, not the story. The series has its fair share of big hair and leg warmers, but nostalgia isn't the primary focus. "It was a time of weird extravagance that made people want to transcend their day-to-day lives," Maron says.
5. There are no good or bad guys. Forget all those TV archetypes. "There's only a hero and villain in the ring," says Maron. "Outside of it, everyone plays all those parts. They're all a little broken."
GLOW, Series Premiere, Friday, June 23, Netflix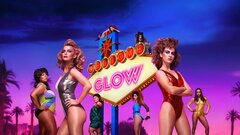 GLOW
where to stream
Powered by