Empire Finale Will Leave You 'Gutted,' Says Creator Lee Daniels
Lee Daniels hates Wednesday nights. That's when the watercooler crowd is jacked up to see the latest installment of his sizzling hip-hop soap opera, Empire, the record-smashing, rule-busting hit of the 2014-15 television season. But Daniels just can't join the party.
"I have never worried so much in my life as I do when I go to bed after Empire airs, because that means the ratings will be out the next morning," says the Oscar-nominated Daniels, who cocreated the Fox series with Danny Strong (the two teamed on the 2013 feature film Lee Daniels' The Butler). "The excitement for our show is high, but so are the expectations. My publicist will kill me for saying this, but all I can think about is that old showbiz saying 'The higher you rise, the harder you fall!'"
Relax, boss. Empire, starring Terrence Howard and Taraji P. Henson as rap moguls (and battling exes) Lucious and Cookie Lyon, is showing no signs of decline. In fact, since the show's January 7 debut, the ratings have gone up each week–an achievement no other series can claim since Nielsen started tracking that metric 23 years ago. The show averages 12.2 million viewers a week, and that number jumps to 16.1 million with a week of DVR playback. In the advertiser-coveted 18-49 group, it is bested only by The Walking Dead and The Big Bang Theory. Even when the numbers eventually level off, it will remain a behemoth.
"I knew we had a show with great energy and potential, especially with Terrence and Taraji pulling out all their superpowers, but we tried to be realistic," Strong says. "We were told that getting a 2 rating in the key demo would make us a success and that anything in the high 2s would qualify as a hit, so that's what we were hoping for. No one was prepared for us to hit a 5." The challenge now, he adds, "is to give our audience a killer season finale–one that tops anything they're expecting and guarantees they'll be back."
That two-hour episode, which airs next Wednesday, is directed by Mario Van Peebles and Debbie Allen and boasts a musical blowout with dueling Lyon brothers Jamal (Jussie Smollett) and Hakeem (Bryshere Gray). "Make sure you have a doctor on call, because you will be in cardiac arrest," Smollett says. "By the finale, it's official that both brothers are industry superstars, and Debbie has staged the biggest, most lavish numbers the boys have ever done. And I get to duet with Patti LaBelle. It does not get better."
Daniels is also predicting a visceral reaction to his season ender. "Your mouth will hang open," he says, "and you will feel gutted."
And maybe even morally confused. Howard says the episode will feature "someone getting their just deserts for doing something really bad, and you will either applaud it wildly or wish that this person had gotten away with it. It all depends on your ethics." Hmmm…could Howard be referring to his own character? Lucious killed old friend Bunkie (Antoine McKay) in the series premiere and never got caught, although the police have been hot on his trail ever since. "Between Lucious committing murder and being diagnosed with ALS with only three years to live, the producers have made damn sure I don't act up on the set," Howard says with a laugh. "And it's working. I show up on time with all my lines memorized, and I always hit my marks because, hell–they can get rid of me in a heartbeat!"
Howard says that he had no problem playing one of Empire's most controversial and brutal sequences–a flashback showing Lucious shoving a young Jamal into a garbage can when the boy started to exhibit gay tendencies. "I love that Lucious is honest with his feelings and not looking for anybody's approval," Howard says. "My own daddy was a monster when he was home, and he would whoop my ass good, but he was also the best man I've ever known. People are not black and white."
Smollett, on the other hand, is cringing over his character's recent behavior, especially the moment when Jamal was asked by a reporter if he had a girlfriend. Not only did he refuse to acknowledge he had a live-in lover, Michael (Rafael de la Fuente), but he made things even worse by saying that there was "no one special" in his life.
"That was such a d–k move," Smollett says, "and I feel extra heartbroken about it because I ad-libbed that line!" Michael rightly took a hike over the slight. Will Jamal ever be able to maintain a normal relationship? "It's up to Jamal to straighten up," Smollett says. "He started out a normal guy who didn't want success to change him, and that's exactly what happened–in record time. But I can relate. It's something all of us at Empire are dealing with right now, and it's hard. Fame is just not normal!"
Empire, season finale, Wednesday, March 18, 8/7c, Fox
MORE ON EMPIRE
Why Taraji P. Henson Was 'Mad as Hell' at Empire Boss Lee Daniels
How Empire's Costume Team Makes an Outfit Cookie-Worthy
Why We Loved Cookie Right From the Start
Review: Critic Matt Roush calls Empire a Hit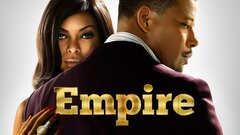 Empire
where to stream
Powered by