Why Empire's Jussie Smollett Is One to Watch
Jussie Smollett is stealing scenes as Jamal Lyon, a gay R&B singer — and potential heir to his fractured family's hip-hop dynasty — on the new hit musical drama Empire. "Jamal definitely has all of the elements that you need to run a company," says Smollett, 31. The only trouble? He'll have to go up against his ambitious brothers–plus his homophobic father, the ailing CEO Lucious (Terrence Howard)–first. "Jamal's journey is going to be kind of heartbreaking, because in order to succeed, he's going to have to lose so many parts of his beautiful soul," Smollett says.
WHERE YOU'VE SEEN HIM
The 1992 hockey flick The Mighty Ducks; costarring with his five siblings on the 1994 sitcom On Our Own; and–most recently–in guest spots on The Mindy Project and Revenge.
WHY WE LOVE HIM
As sensitive but tough Jamal, Smollett routinely holds his own in scenes with his formidable–and Oscar-nominated–costars Howard and Taraji P. Henson (who plays Jamal's ex-con mother, Cookie). And the gravity of playing one of the few gay African-American characters on TV is not lost on the actor. "We tackle the honesty and feeling behind who he is and not what society thinks he should be," says Smollett. "There's a reason a rainbow is used as the LGBT symbol. There are so many different kinds of human beings in the community." Let's also not forget about those pipes–four original songs from Smollett's upcoming album will be featured on air this season. "Jussie's voice is soaringly powerful and moving," showrunner Ilene Chaiken says, "and it helps showcase Jamal's struggle perfectly."
CAN'T KNOCK THE HUSTLE
When Smollett first learned of this role, he was so convinced he was the right fit that he hit up creator Lee Daniels–a complete stranger–via direct message on Instagram. "Hell, yes, I wanted it!" he says with a laugh. "I still have Lee's reply in my inbox. He ended up putting me through the wringer. I think I went in to read seven different times." Clearly, the effort paid off: "This is everything I've ever wanted to do mixed up in a big old pot of gumbo."
Empire, Wednesdays, 9/8c, Fox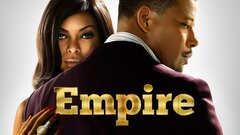 Empire
where to stream
Powered by