An Ode to Empire's Cookie Lyon
The moment Empire's Cookie Lyon (Taraji P. Henson) appeared onscreen, all white fur coat and leopard-print minidress, strutting through prison gates and declaring, "Cookie's comin' home," it was clear we were in for a hell of a ride with the character. Empire quickly established Cookie as the fiery heart of the show, a woman looking for redemption at any cost—except her pride. Always partial to her middle son Jamal (Jussie Smollett), Cookie takes her ex-husband's implied competition between Jamal, youngest son Hakeem (Bryshere Y. Gray), and eldest son Andre (Trai Byers), and turns it explicit, pitting musicians Jamal and Hakeem against each other.
This type of character can burn out fast. Villainy is fun, but if it isn't rooted in an identifiable cause, a show's writers get stuck with having to top themselves every week to retain viewers' attention. The Dark Knight's Joker was a riveting antagonist who would nevertheless be unsustainable over the course of any story longer than a feature film, simply because viewers don't want to watch a man burn the world down for no reason. Theatrics like shoe throwing and storming out of meetings make for great act breaks and "OMG" moments on Twitter, but part of what makes Empire such a success is taking what could be a Real Housewives caricature and imbuing her with heart and strength and talent.
Not only does Cookie have a solid backstory that explains her scheming, she's also the most genuine character on the show. She really believes Jamal is the better artist; that his music has a depth, a soul, that Hakeem's songs lack. Everyone else presents a front to the public: Empire CEO Lucious (Terrence Howard) has to conceal his ALS; Hakeem needs to keep his older "side piece" on the DL in favor of a publicity-garnering relationship with rising star Tiana (Serayah); Jamal knows that coming out could ruin his fledgling reputation in the hip-hop/R&B community. But Cookie is who she is, unapologetically. She knows what she wants and needs, and she does not have time for other people's nonsense or expectations.
She's also a genuine producing talent. It was Cookie who gave Lucious the hook for one of his first hits. While Jamal is crafting his brilliant single "Keep Your Money," he plays Cookie the first 30 seconds or so over the phone, and she's immediately able to identify why the song isn't working and offer a solution.
Tonight, Courtney Love starts her arc as has-been rock goddess Elle Dallas. Love's natural paleness reflects Elle's status as, essentially, a ghost—haunting the studio, an echo of glory days past. Empire is about to drop Elle, but abandoning one of the artists who helped build the label up from nothing doesn't sit right with Cookie, who spent her years in prison drawing solace from Elle's music. So she volunteers as Elle's new manager, and it's with Elle that we see Cookie's management skills aren't limited to artists within her nuclear family. She's able to connect with Elle on a level that someone like Lucious' fiancé Anika (Grace Gealey) can only dream of. She alone can get Elle to reach into her deep reserves of pain and embrace it, because Cookie has had to do that every day of her life.
And, less seriously, Cookie's just so damn fun to watch. Henson walks one of the most difficult lines an actor can walk, between spectacle and nuance, and while credit is certainly due to the writers, without Henson's delicious, layered performance, Empire falls.
Empire airs Wednesdays at 9/8c on Fox.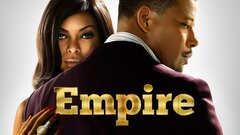 Empire
where to stream
Powered by