The Roush Review: Empire Is a Dynasty With Music in Its Twisted Soul
Doesn't really matter if hip-hop is your musical genre of choice, because the beat the deliciously entertaining Empire grooves to echoes the more traditional and timeless rhythms of grand soap opera. And whenever the show's supreme diva reaches for the histrionic high notes, it's a master class in attitude.
Rocking her furs and hair extensions like Dynasty's Alexis as Lady Superfly, the fabulous Taraji P. Henson (late of Person of Interest) swans into Empire as tungsten-tough Cookie, who has one ambition: "I'm here to get what's mine." She's the matriarch of a family that has become musical-celebrity royalty while she sweated out 17 years in prison, taking the fall for the criminal activities that helped launch Empire Entertainment.
This outrageous force of nature immediately gets in the face and business of her ex-husband/superstar mogul Lucious Lyon (Terrence Howard, cool and steely), who's already got plenty on his plate. His quandary is deciding which of their sons should take the reins should illness force his early retirement: Andre (Trai Byers), the studious, scheming MBA/CFO; Jamal (Jussie Smollett), the musical genius whose homosexuality estranged him from his father; or Hakeem (Bryshere Gray), the bratty, undisciplined rap star. When Cookie takes Jamal under her formidable wing, the sibling rivalry promises to erupt into all-out war. And I can name that tune in one note: HIT!
Rating: 4 out of 5 stars
Series premiere, Wednesday, Jan. 7, 9/8c, Fox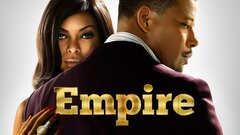 Empire
where to stream
Powered by