Watch: Scandal's 100th Episode Dives Into a 'Twisty, Crazy Parallel Universe'
O.M.G., the Scandal 100th episode is set to be a crazy, fun ride if the episode itself is anything like the just-released promo that was shown at the end of Thursday's episode.
As many of the cast told TV Insider at PaleyFest last month, the landmark episode, which airs April 13, takes us into a world that would've existed if Olivia Pope (Kerry Washington) had said "no" instead of "yes" in regards to rigging the presidential election to get Fitzgerald Thomas Grant III (Tony Goldwyn) into office.
In the clip, among other quick flashes of scenes we can assume are from the episode, we see Olivia in a wedding dress, Quinn (Katie Lowes) getting a crown put upon her head (Princess Quinn?) and Fitz shirtless in bed on top of what looks to be Olivia. However, we also see moments that happened over the course of the series like Fitz's assassination attempt, Olivia's kidnapping and Olivia kissing Jake (Scott Foley) on a beach—so does that mean that these events would have happened regardless of Olivia's actions? Will this world be an improvement over the madness happening in the real world of Scandal due to the truth being exposed about Frankie Vargas's assassination? So many questions, right?
We have until next Thursday to guess, but for now, in case you missed it (or what to see it again), here's the promo:
Scandal, Thursdays, 9/10, ABC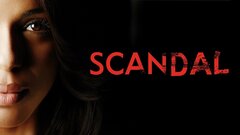 Scandal
where to stream
Powered by