'Scandal': Darby Stanchfield Reveals Abby's Motives and That Gross Out Moment
[Spoiler Alert: Read ahead only if you've watched this week's episode of Scandal. Major plot points discussed below. You've been warned.]
Has Abby Whelan (Darby Stanchfield) been vindicated after last week's shocker that the Chief of Staff is the mole responsible for the death of Jennifer Fields and the shooting of Huck (Guillermo Diaz) on ABC's Scandal?
Maybe…
In this week's episode, while Abby is still the mole, the action went back in time a bit to show us the time before and after the election and how Abby went from being Fitz's (Tony Goldwyn) loyal right hand to being so much more involved that she even had her hands literally in…wait for it…the dead body of President-elect Francisco Vargas (Richard Chavira)!
See Also
Also, is Huck dead? Guillermo Diaz offers his thoughts.
Stanchfield talked to TV Insider about the compelling episode, Abby's relationship to power and how this episode was a different challenge than your usual high-octane episode of Scandal.
How big of a shock was it for Abby to see David with Marjorie…or Samantha…or whatever we're calling Zoe Perry's character?
Darby Stanchfield: I know, pick a name, any name! It was such a big shock. I mean, that was almost as much of shock as the episode before when you find out that Abby was the mole! And filming it was so great because I have a really specific working relationship with Josh Molina, so it was a really easy and enjoyable scene to shoot because Abby's at her almost biggest low in this episode. She absolutely has nowhere to turn. And she goes to David and, for me, he still represents good. He's still like a very law-abiding, there's this optimistic, idealistic quality to David and that's something she's always been attracted to in him. She was really needing that strength and that friendship.
Backing up to earlier in the episode, why does it seem that Abby takes a lot of what Fitz says personally? Whether it's about the library, or the fact that he wants to go fly-fishing?
I think this episode really does drill down on Abby's relationship to power. That seems to be an overriding theme these days in Scandal, and a lot of characters say this. I think Olivia talks about this a lot. The closer you get to the Oval, the more you get sucked in to the seduction and the shininess of power with people just compromising themselves and their character to run the country, or run the world. So in this episode we really get to see Abby's grappling with power.
See Also
We'll be getting more TGIT during the 2017-18 television season.
When she brings up Olivia during their argument, is that just to hurt him, or does she actually think that might sway his thinking?
I think she knows that Olivia holds a special place in his heart, and so I think it's both. Abby is incredibly emotional and takes things personally, so she takes a personal shot, but I also think it's her trying to wake him up and get with the program of what Abby thinks he should be doing. Where she thinks he should be locating the library and living out his legacy. It's one of those great Scandal moments where it's never one thing, it's always like two or three things.
It's after this fight with Fitz that she goes in and calls Payas and says, "I'm in." Do you think Abby is thinking clearly at this point?
The way that I felt it was that Payas and Marjorie seduced her ego. It's a moment of weakness for Abby's ego and, again, getting sucked into power. They flattered her with saying, "Oh, you know. You could really do something in this town. I mean, you're an outsider." They say all the right words! "You're an outsider. You're not a politician. But that's exactly what we need." And that tends to work. But it's a combination of Abby feeling power slipping away from her with the President coming to the end of his term and just wanting to check out and go to Vermont and fly-fish.
And in that first lunch with Payas and Marjorie, or whatever her name is, he says, "We are the ones who listen."
If you think about it, she spent most of her time in the White House not being heard because she had to spend so much of her time as press secretary just trying to get into the bubble, and the press is calling her Gabby, and Cyrus (Jeff Perry) is running her every which way. So her time as chief of staff has been very sort of limited, and she kind of took over that job right at the very end of his presidential career, so, yeah, they tickled her ears. They said all the right words. They're great manipulators.
When Abby has to dig the bullet out of Vargas' body, on a scale of one to ten, with ten being the grossest thing ever, where does that fall?
Oh, yeah, that's an 11. That was definitely 11. But the grossest thing I've ever done? No, I have to say, in the same Abby gets sick after doing that in a wastebasket. I have never done that on camera, and it's a combination of pineapple juice and oatmeal that they give you. And they put this in your mouth, as full as you can. The director (Oliver Bokelberg) really wanted me to have a lot [in my mouth] so I'm just gagging on this stuff and then I run to the wastebasket. We did it, I don't know, six to eight times. So between that and digging for bullets, it was a pretty bad time, both of them.
How challenging was this episode? I feel like every Scandal episode has so much tension, but did this one feel different, especially since it was all on your shoulders?
It did. Physically, emotionally, mentally. The hours where I was literally in every scene except for maybe a couple of phone calls where somebody else is talking on the other end. So, I think our longest day was like an 18-hour day, and we had a couple of those. They were long, long shooting days, but it was so well written, it was so different for Abby, and she's really just pushed to her limits. There's something about the actual exhaustion that helps that. There was kind of an adrenaline and exhaustion that I think Abby's running on.
RELATED: Subscribe to TV Insider's Scandal Newsletter
Myself, as an actor, I've really struggled with this for Abby. I really resisted a lot of what happens to Abby. I resisted a lot of this seduction of greed and power and ego. My heart broke for Abby. The director, we had a great conversation about it, he said, "Well, that struggle that you're feeling, just put that into Abby." It was perfect. It was the perfect tension that I had, it's the tension that Abby has when she says yes, but then all the regret and the fear and the adrenaline and all of that. It just kind of worked out.
Scandal, Thursdays, 9/8c, ABC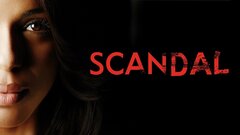 Scandal
where to stream
Powered by