'Imposters': Will Ezra Risk Everything to Save Maddie? (VIDEO)
In last week's episode of Bravo's freshman drama Imposters, seductive scammer Maddie's (Inbar Lavi) trio of victimized exes—Ezra (Rob Heaps), Richard (Parker Young) and Jules (Marianne Rendón)—made the ultimate decision to actually help her instead of take her down. And while Maddie was hurt when they told her that her new beau Patrick (Stephen Bishop) was an undercover FBI agent, she was definitely not defeated.
All a part of Maddie's plan, Ezra stumbles into her dinner with Patrick and Gina (Chastity Dotson) and makes it seem as if he's warning Patrick against marrying Maddie. Giddy, Ezra and Maddie have drinks after, thinking their plan to throw Patrick off his assumption that Ezra is working with Maddie worked…or did it? The last scene of the episode shows Ezra walking down the street but suddenly stopped by the police and taken into custody.
See Also
We want to hate Inbar Lavi's sexy swindler Maddie, but we just can't!
In this week's penultimate episode to the season finale, Ezra is faced with grim choices: Go to jail if he doesn't cooperate with the FBI, be killed by The Doctor, or risk Maddie being murdered. Will Ezra risk everything to save the woman who conned him and broke his heart? Check out the clip to see Ezra's dilemma as Patrick lays out the cold hard facts.
Imposters, Tuesdays, 10/9c, Bravo.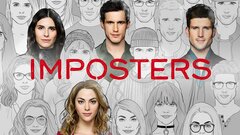 Powered by