'Imposters' Season 2 Premiere Sneak Peek: What Happened to Maddie? (VIDEO)
We have a double-dose of good news: Imposters is back and you don't have to wait until Thursday's episode to get a hint at what's happening next for con artist Maddie Johnson (Inbar Lavi).
TV Insider has an exclusive sneak peek at the April 5 second season premiere, which picks up where we last left off with Maddie striking out on her own. Now, we see where she ended up: "looking for a fresh start" in a new home and going by the name "Molly."
"I'm just looking for a nice quiet life in a nice quiet town where nobody knows me and I don't know anybody," she tells the landlord as she tours his rental. "You know, some real stability, a clean slate—same as everyone else. A happy, normal life."
We also see her walking around this apparent coastal town, drinking coffee and looking at a Help Wanted ad in a book store. It won't stay all tranquil like that for long though—the FBI is still on her trail, as agent Patrick (Stephen Bishop) is seen mulling over a bulletin board of clues into her whereabouts.
Check out the full exclusive preview below:
Imposters, Season 2 Premiere, Thursday, April 5, 10/9c, Bravo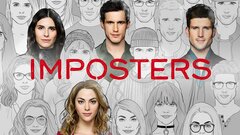 Powered by