'Imposters' Renewed for Season 2
The con is back on. Bravo announced Tuesday that its freshman series, Imposters, will return for a second season. The announcement, which was made by co-creator and executive producer Paul Adelstein at the For Your Consideration Emmy® event, stunned the cast. Watch the moment below.
Production on Season 2 of the drama will begin this fall. The twisty drama follows con artist Maddies (Inbar Lavi) as she tries to evade three former lovers—and spouses—she fleeced. In Season 1, the bumbling trio of spurned exes (played by Rob Heaps, Parker Young and Marianne Rendón) track Maddie down only to find out she's moved on to her next victim, Patrick (Stephen Bishop), who is not who he at first appears to be.
See Also
We want to hate Inbar Lavi's sexy swindler Maddie, but we just can't!
"Imposters has truly resonated with our audience and critics alike with its unique brand of suspense and humor," said Frances Berwick, President, Lifestyle Networks, NBCUniversal Cable Entertainment. "We're excited to see what the future holds for this unlikely band of flawed, but lovable characters that our talented creators and actors have fully brought to life."
No word on if Uma Thurman will reprise her role as Lenny Cohen, a ruthless assassin for Season 1's villain, The Doctor.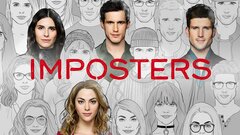 Powered by