'Imposters': Will Maddie and Patrick Both Get What They Want? (VIDEO)
Bring out the handcuffs! Maddie (Inbar Lavi) does just that in Tuesday's episode of Bravo's sexy new drama, Imposters. And while you might expect some heat between our favorite con artist and her hunky latest mark, Patrick (Stephen Bishop), things go in a different direction than you might imagine.
As fans of the freshman series know, Maddie has been breaking her own rules by falling in lovePatrick, but when she finds out this week that he's in the FBI, things are bound to take a serious turn. Will her feelings for Patrick win out over her con objectives? Or is Maddie so good at her manipulations that she can even con herself to forget her feelings for him?
See Also
We want to hate Inbar Lavi's sexy swindler Maddie, but we just can't!
In this exclusive clip, Maddie starts out all sexy and sweet with Patrick in bed before a pair of handcuffs and a serious accusation makes for an interesting turn in the story. Will they both inevitably get what they want? Watch here and leave a comment below and tell us what you think.
Imposters, Tuesdays, 10/9c, Bravo.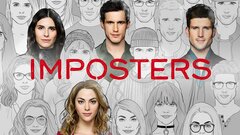 Powered by