'The Good Lawyer' Trailer Introduces Felicity Huffman & Kennedy McMann's 'Good Doctor' Spinoff (VIDEO)
The Good Doctor is officially expanding to the world of the law with the March 13 episode, a special embedded pilot. TV Insider has an exclusive first look at the promo for what could end up being a new series on ABC, The Good Lawyer.
Dr. Aaron Glassman (Richard Schiff) is the one to bring in Janet Stewart (Felicity Huffman) for Dr. Shaun Murphy (Freddie Highmore), but it's another lawyer, Joni DeGroot (Kennedy McMann) who ends up taking him on as a client.
"You're settling your case?" Joni asks Shaun. "It doesn't seem right that you should be punished for saving a man's life." He knows that the reason everything is covered in plastic is her obsessive compulsive disorder, and that's also why he wants her to represent him. "She is thorough and understands my situation," he says.
However, this will be her first trial and some, including Janet, aren't as confident in Joni being the right choice. Watch the video above for more.
In this episode of The Good Doctor, "The Good Lawyer," Shaun seeks legal representation to help him win a case and puts his faith in Joni, a promising, young lawyer who has obsessive compulsive disorder. Janet is a highly regarded attorney and partner at the law firm with a fierce intellect and dry wit. Plus, Bethlehem Million guest stars as Abbie, Joni's compassionate, practical slightly older sister. A voice of reason, she is Joni's biggest cheerleader, roommate and best friend.
This potential new series was first announced in January. The special embedded pilot is written by co-showrunners David Shore and Liz Friedman and directed by Ruben Fleischer. It's one of several pilots that ABC is looking at for the 2023-2024 season; none have been ordered to series yet.
The Good Doctor, Mondays, 10/9c, ABC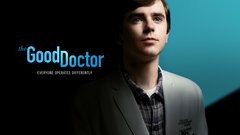 Powered by