'Good Doctor' Spinoff 'The Good Lawyer' Starring Kennedy McMann & Felicity Huffman Headed to ABC
ABC has ordered a backdoor pilot episode of The Good Doctor titled The Good Lawyer, which will star and introduce the characters of Kennedy McMann's Joni DeGroot and Felicity Huffman's Janet Stewart. Airing March 6, written by The Good Doctor co-showrunners David Shore and Liz Friedman and directed by Ruben Fleischer, the episode serves as the first part for Huffman following her short prison sentence for the college admission scandal she played a part in about three years ago.
DeGroot is a "brilliant, funny, and self-aware lawyer who is relatively new to her prestigious law firm when she takes Shaun's case," according to ABC. "Living with OCD, Joni has never wanted to be treated differently. While her symptoms take a toll on her personal and professional life, her attention to detail allows her to see cases through a different lens."
Meanwhile, Stewart is described as "a highly regarded attorney and partner at the law firm with a fierce intellect and dry wit. A seasoned veteran, Janet has represented Dr. Aaron Glassman (Richard Schiff) in several legal matters over the years, so he turns to her to represent his beloved protégé. But when Shaun declares that he wants Joni to represent him, Janet is forced to let Joni take lead on the case."
McMann, who has been open about her longtime struggles with OCD, surfaced as the ideal actor for the part.
"The Good Doctor ranks as ABC's No. 1 entertainment series this season in Total Viewers, tying with The Rookie. After 35 days of viewing on linear and digital platforms, the series attracted 9.4 million Total Viewers this season. The series jumps more than six times over its initial Live+Same Day rating among Adults 18-49 this season, soaring by +509% after 35 days of multiplatform viewing.
McMann's most recent role is playing the self-titled character of The CW series Nancy Drew which is coming up on its fourth and final season. Meanwhile, Huffman's history with ABC stems from leading parts in critically acclaimed shows like Sports Night, Desperate Housewives, and the anthology series American Crime.
The Good Doctor, Monday, 10/9c, ABC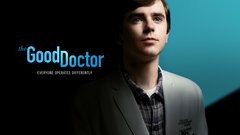 Powered by