'Magnum P.I.' Starts Off 'With A Bit of a Bang' in First Season on NBC (VIDEO)
Now that Magnum P.I. is surfing its way from CBS (where it was canceled last year) to its new home at NBC, longtime viewers can rest assured they're in for plenty more of what they love from the crime drama — and then some. "It's definitely a little steamier this year purely by value of the two characters getting together and embarking on a new territory and unexplored lands," says Perdita Weeks, who plays former MI6-operative Juliet Higgins.
Higgins has been paired with private investigator Thomas Magnum (Jay Hernandez) for a while now but this season shows them having finally taken the leap into a romance with each other. At Hernandez's urging in the in-person interview held during last month's Television Critics Association press tour with TV Guide Magazine's Jim Halterman (for the cover story that's in stores now), Weeks can't help but laugh when she explains the new season "starts off with a bit of a bang." That's because this isn't a fantasy or dream as we've seen in past seasons that teased the characters' shared attraction. This is the real deal.
"It's something new," says Hernandez. "It's an actual dynamic that now we have to discuss because our beats in the show, we know them with our eyes closed. It just comes so natural to us at this point after doing it for so many seasons and we're being presented with things that it's like, 'Wait, hold on. How are we going to approach this? Do you feel good about this? You feel right about it?' So, it's a different dynamic. It's interesting because it's something new."
And while we've seen both characters in their own romances over the seasons, who do Hernandez and Weeks think is more adept at having a healthy relationship? "Probably Magnum," offers Weeks. "He's more sort of heart-led and Higgins is like a steel trap."
Hernandez adds that Higgins is a bit more cerebral. "She wants to think it through and I'm like, 'Eh, just let it happen.'"
To find more about the obstacles the couple will face with each other and their tight circle of friends as well as the arc that begins in the season that's tied to Magnum's military past, watch the full video interview above.
Magnum P.I., Season 5 Premiere, Sunday, February 19, 9/8c, NBC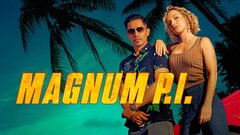 Powered by