'Magnum P.I.' Gets 'a Little Sexier': Jay Hernandez & Perdita Weeks Tease Season 5
After a kayaking workout in the sparkling blue waters off Oahu, Thomas Magnum (Jay Hernandez) steps into a steamy shower. The private detective isn't alone for long. "Hey," he says. "Hey yourself," purrs his business partner Juliet Higgins (Perdita Weeks) before a passionate embrace.
Diehard fans know this is typically when someone wakes from a dream or snaps out of a fantasy. Wrong. After four seasons of flirting and longing looks, Magnum and Higgy — "Miggy" — are a couple! "The show starts off with a bang," says Weeks, laughing along with Hernandez as they sit down with TV Guide Magazine.
It's also no dream that we're still talking about the show. The reboot of Tom Selleck's 1980–88 action hit was canceled last year after four successful seasons on CBS. "The ratings were good, the audience was loyal. It was quite a surprise," says executive producer Eric Guggenheim, who fought to keep Magnum alive. Eventually, NBC picked it up for 20 episodes — 10 this season and 10 presumably for 2023–24. "When [the renewal] finally happened," he says, "it was like, 'Wow, we cheated death!'"
Moving into Round 5, "this is probably our most emotional season," Guggenheim says, "and the show is a little sexier." We see both elements play out as Magnum and Higgins face uncharted terrain in their relationship. First off, they approach dating with different mindsets. "Higgins is more cerebral and wants to think it through," Hernandez says. (Hard to find space to ruminate considering they're already living together — sort of — at Robin's Nest, the estate of never-seen novelist Robin Masters, where Magnum provides security.) And per Weeks, "Magnum is more heart-led. He's the more natural romantic. Higgins is like a steel trap."
Those opposing styles have served them well in their crime-solving partnership. In the first of two back-to-back episodes on premiere night, they seek a mystery passenger from a fatal car accident, and in the second, they go undercover as lifeguards. Throughout, "We still bicker constantly," promises Hernandez.
At least that won't give them away when they decide to conceal their romance from their ohana (their close circle who are like family). "All their friends are somewhat invested," Weeks says. "There is a large amount of pressure to make [this relationship] work." But in
Episode 2, Magnum agrees to let his pal, La Mariana bar owner and new dad Orville "Rick" Wright (Zachary Knighton), temporarily stay with him in the Robin's Nest guest cottage. No lounging around in bathrobes for the lovebirds!
It's an unlikely pair that spills the beans: the estate's sharp-toothed Doberman duo, Zeus and Apollo, loyal to Higgins but typically seen chasing Magnum around the grounds. "There is a funny moment where Kumu [Amy Hill, as the estate's cultural curator] walks in and suddenly the dogs are OK with Magnum," says Weeks. "She can't understand why they're not ripping his throat out."
This is an abbreviated version of TV Guide Magazine's Magnum P.I. cover story. For more on the series, as well as Meredith's Grey's exit, Chicago P.D.'s 200th Episode, and more, pick up the issue on newsstands Thursday, February 9.

Magnum P.I., Season 5 Premiere, Sunday, February 19, 9/8c and 10/9c, NBC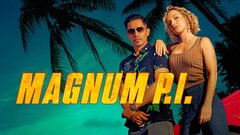 Powered by