'A Million Little Things' Final Season Trailer Teases Friend Group Farewell, Plus Ron Livingston to Return (VIDEO)
"From the beginning, we fell in love with a friendship, a family, a romance, a laugh, a triumph, a moment, a million little things," the new trailer for the ABC drama's final season reminds us.
A Million Little Things returns for its farewell on Wednesday, February 8 at 10/9c, and ABC has released a new video offering a look back at some of the big moments — the relationships! the heartbreaks! the friend group as a family! — from its past four seasons as well as a sneak peek at what's still to come.
As Rome (Romany Malco) says, "Life isn't just about the moments. It's about who you share them with. Everyone at this table has impacted my story, so now it's our story." And right now, as always, there are ups and downs to that story.
Maggie (Allison Miller) is pregnant, but Gary's (James Roday Rodriguez) cancer is back. And while only Rome and Regina (Christina Moses) had known at the end of Season 4, it looks like the entire group will know soon enough — Regina and Katherine (Grace Park) go to see Maggie.
But could there be some happiness in store, say, a wedding? Theo's (Tristan Byon) on board if so, telling his mother Katherine and her girlfriend Greta (Cameron Esposito), "If you two ever want to get married, I'd be OK with that."
And it's only fitting that the video ends with Jon (Ron Livingston, who will return this season), whose death started the series: "Friendship is being able to have the hard conversations and being willing to listen. It's a million little things." Watch above for more.
The final season will "explore the depths of friendship, love and sorrow as we bid this special family of friends goodbye, once again proving that friendship really is a million little things," ABC teases.
The drama also stars David Giuntoli, Stephanie Szostak (who will be back after exiting as a series regular in Season 4), Lizzy Greene, and Chance Hurstfield.
DJ Nash is the creator and executive producer. Showrunner Terrence Coli, Aaron Kaplan and Brian Morewitz are also executive producers. Joanna Kerns serves as co-executive producer.
A Million Little Things, Final Season Premiere, Wednesday, February 8, 10/9c, ABC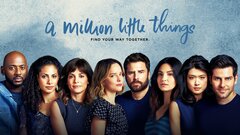 Powered by