'The Gilded Age' Scores an Early Season 2 Renewal at HBO
It seems like HBO is going to spend a little more time in The Gilded Age as the premium network announced an early season 2 renewal for the Julian Fellowes drama.
The series debuted on January 24 and, after only three episodes, HBO has given it a green light for Season 2. The nine-episode first season continues to play out and will wrap in March when the finale airs on the 21st.
"Julian Fellowes and the entire Gilded Age family have thoroughly captivated us with their tale of late 19th century New York City extravagance," said Francesca Orsi, Executive Vice President, HBO Programming of the renewal. "Along with our partners at Universal Television, we couldn't be prouder to embark on a Season 2 journey with this extraordinarily talented team."
Set during a time of extreme economic change, The Gilded Age shines a light on the battle between old and new money in New York as Marian Brook (Louisa Jacobson) arrives from Pennsylvania to live with her aunts. Marian's aunts Agnes van Rhijn (Christine Baranski) and Ada Brook (Cynthia Nixon) aren't quite what she expected as she's told to steer clear of the neighborhood's newest inhabitants, the Russells.
George Russell (Morgan Spector) and his wife Bertha (Carrie Coon) are an ambitious duo. George is ever the ruthless railroad tycoon as Bertha is a social figure, hellbent on winning over the stuffy crowd so determined to shut her out. Along with their "new money" making waves on 5th Avenue, Peggy Scott (Denée Benton), Marian's new friend, is aiming to make a name for herself as a writer.
See Also
HBO turned to some real-life locations to enter the late 19th-century era.
Drama abounds as all reach for their version of the American dream, but will a world on the brink of a modern age change anyone's narrow views, or will it be up to Marian to do so? Only time will tell for certain as the season continues, but there's a good chance it will carry on into Season 2 now that there's another chapter on the horizon.
Along with Coon, Spector, Jacobson, Benton, Nixon, and Baranski, The Gilded Age stars Taissa Farmiga, Blake Ritson, Simon Jones, Harry Richardson, Thomas Cocquerel, and Jack Gilpin, among others. The Gilded Age marks HBO's biggest Monday night debut since its Emmy-winning limited series Chernobyl aired in 2019.
Catch more of The Gilded Age each week on HBO or HBO Max.
The Gilded Age, Season 1, Mondays, 9/8c, HBO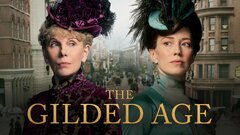 Powered by