Where Was 'The Gilded Age' Filmed? How You Can Visit the Luxurious Locales
Have the glittery locales of HBO's new period drama The Gilded Age caught your eye, maybe even leaving you wondering if these are real places or merely Hollywood sets? Well, it's a bit of both.
The show's regularly featured cavernous rooms are part of sets that are based on and inspired by features in real Gilded Age era architecture, as star Carrie Coon revealed in a behind-the-scenes segment for HBO. "Most of the fixtures you see here were inspired by or copied from the historic mansions in Newport, Rhode Island," shares the actress, who portrays Bertha Russell in the series.
One particular feature that she points out in the featurette is a fireplace based on ones seen in The Breakers. But sometimes a set isn't enough, and that's when rooms from several of the Newport mansions are utilized to capture the proper grandeur of the time.
For instance, when the Russells show off their ballroom and billiards room, those scenes took place in the real Billiard Room and Music Room at the Breakers. Consuelo Vanderbilt's bedroom at Marble House also stands in for George Russell's bedroom in the series, per The Preservation Society of Newport County.
Along with The Breakers and Marble House, the series filmed interior and exterior sequences in Newport's other mansions, The Elms, Rosecliff, Chateau-sur-Mer, and Hunter House. All of these grandiose abodes are also tourable in-season, though The Breakers is currently open daily and, beginning February 5, Marble House will be open to guests on Saturdays and Sundays before its daily schedule begins February 19.
See Also
Julian Fellowes and co-writer Sonja Warfield detail how they joined forces for the lush HBO period drama, and how her history as a Black debutante came in handy.
The Elms opens for daily visitors beginning April 1 and Chateau-sur-Mer follows a month later on May 2. Meanwhile, Rosecliff opens its doors for the season on May 27. The schedules are a little varied, so if you do plan a visit, we'd advise checking the Newport mansions' official calendar. There is also a selection of ticket packages, membership opportunities, guided tours (and virtual ones too!), and more so you can customize your experience of visiting some of the filming spots from The Gilded Age.
Get a taste of what it was like to live like the Russells and the Van Rhijns in HBO's new hit, and stay tuned for more glimpses of the famed Newport mansions as the season continues. And go behind the scenes of The Gilded Age in the fun featurette, below.
The Gilded Age, Season 1, Mondays, 9/8c, HBO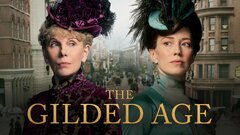 Powered by